Your portable stands are going to be the best silhouette of the standing still goodwill of your brand. Portable display stands known as "banner stands" come with a colorful, custom-printed banner. These banners are portable and perfect for trade exhibitions or other promotional events because they increase the visibility of your company. Banner stands would you the most aesthetic and innovative way to display your brand image inside of your organization aur anywhere else you want to show it off. You can add as much color and authentication as you want to your banner stands for the most creative banner ideas for business as they come in customized form.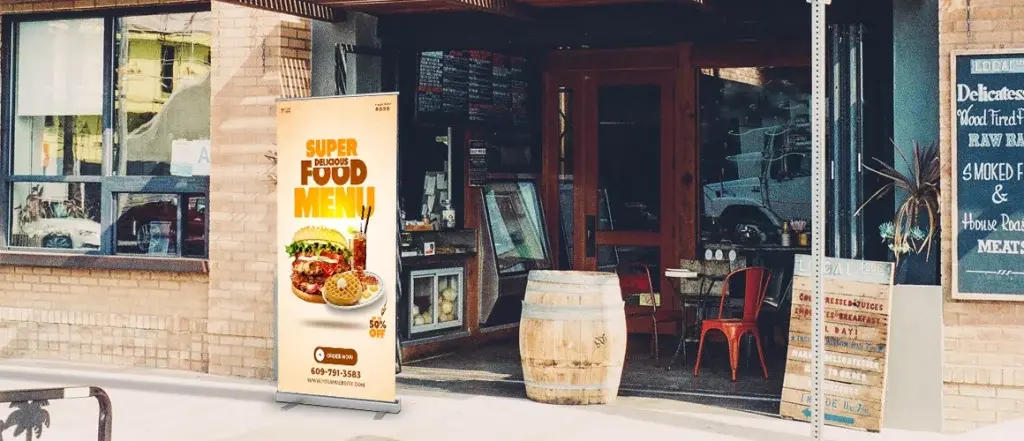 Do You Know Why a Portable Banner Stand Is the Perfect Tool for Smooth Marketing of Brands?
No matter how terrific the Pop-up banner stands for getting your message out as a marketing tool, whether you're advertising products and services at an expo or making an impression with clients in your shop. When compared to other promotional channels such as placing an ad in a newspaper or trade press publication, or even developing something for your local radio station, they are a relatively costly advertising strategy. However, marketing banner stands are a boon for the new brands.
Portable banners are an unquestionably powerful marketing tool that any business owner should have in their arsenal. Portable banners are a vital marketing tool for any sort of business you want to advertise. It makes no difference whether your goals are to advertise at a local festival, fete, or market, or to capture attention at a conference, trade exhibition, or other event. Also, the trade show banner stands may be installed almost anywhere and take up very little floor area. The best way to do it is with a well-placed banner.
Banner Stands Give Audience a Clear Message About the Brand
A banner stand display message is clear, concise, and to the point. It provides a high-level summary of the product, service, or message. Businesses will also frequently employ banner stand advertising for a promotion that is not directly related to their product or service, such as a vacation or prize-winning. This is all part of a company's advertising and marketing strategy.
The longevity is increased
The final advantage of a pop up flag stand is its durability. A pop-up stand, unlike a TV commercial, a newspaper advertisement, a radio advertisement, or even a leaflet, can be used repeatedly. You can reuse the same pop-up stand as long as the message is correct and does not include a date or time. This provides excellent value for money from this very inexpensive platform.
Let's Know Something About The Durability Of A Portable Stand
Pop up banners are also exceptionally long-lasting. The printed vinyl used for printing is exceptionally sturdy and long-lasting. A pop up stand's foundation is also quite robust and gives additional support to the entire stand. Most pop up stand frames are made of aluminum, making them both lightweight for transit and durable and sturdy when on exhibit.
How can you build business visibility with the use of Portable Banner Stands?
Visibility is critical to the success of any firm in today's highly competitive industry. It not only attracts new clients, but it also raises brand awareness. The retractable banner stand is an effective instrument that can dramatically build businesses to estimate the future in a clearer manner. By emphasizing a strong point or an imminent transaction, banner stands with large graphics on pull-up banners can effectively enhance sales presentations.
With the help of banner stands you can sell your brand to your target audience. People will choose your company depending on how visually you offer your products and services. Retractable banner stands with appealing graphics and designs are an excellent approach to selling your brand's message to your target audience.
Let's have a look at the wide variety of Banner Stands
The most flexible banner stands: Roller banner stands
Roller banners are freestanding printed graphics that roll inside a spring-loaded aluminum structure. This makes it extremely convenient for them to keep and travel to your events. They are also commonly referred to as pop-up, pull-up, or roll-up banners. They are also called portable banner stands.
Most effective alternative of retractable banner stands: Tension banner stands
Our tension banners are a lightweight alternative to retractable banners with a simple but effective design that allows you to change the graphics and are ideal for recurrent usage, especially when you need to modify your message or artwork.
Easy to install banner stands: Desktop banner stands
While a floor-standing banner stand might be a terrific choice if you have the space, it can also be inconvenient. A desktop banner stand is a simple solution to this problem. These goods, as smaller versions of their floor-standing cousins, can still capture the eye and can even be utilized alongside the larger ones to give extra information, market a specific product or service, or provide crucial contact information.
Most effective advertisement element: Outdoor banner stands
Outdoor Banner Stands are excellent advertising items that come in a variety of styles and sizes. The Banner Stand outdoor can be utilized as a "sidewalk talker" to reach out to clients and capture potential business that would otherwise go unnoticed.
Authentic and lightweight banner stands: Fabric banner stands
Fabric banner stands are eye-catching display stands that are great for exhibitors looking for a lightweight stand that can be simply assembled and disassembled. Because we only utilize a single cut of fabric, the graphic display is seamless, providing you with a more aesthetic design.
Best for interior: Rigid banner stands
Rigid banner stands are best suited for longer-term interior displays. Fixed banner stands, such as the Wedge, are made to hold hard materials like Forex, MDF, Glass, and Acrylic. Vertical banner stands are also a kind of interior banner stands.
Knowing more about the uses of Portable Banner Stands
Easy and prominent advertisement
Because of their lightweight, robust, and movable quality, Portable Banner Stands can be used both indoors and outdoors, giving them an inexpensive way to advertise products and services. They are mostly used in trade exhibitions, seminars, and presentations, as well as in-shop displays to highlight a new product or special deal.
Providing information
Another use of banner stands is that you can take your message on the road. From presenting your company at a conference or exhibition to giving a talk at a local show, a branded pop-up stand allows you to easily establish brand awareness and convey your message.
Producing consumer interest
The primary function of banner stands is to provide participants with information or directions as they arrive at an event. Banners can point visitors in the appropriate way or invite guests to a certain booth to see their products and services.
Instigate action in the audience
By motivating the audience to take action, a call to action will boost the impact of your banner. A successful banner relies heavily on branding. The banner should be consistent with the brand's or message's branding. The logo and other branding features should be included in the banner stands such as exhibition banner stands.
Setting target audience
A banner stand, if placed correctly, can significantly improve the rate at which you reach out to and attract the attention of your target audience. With banner marketing, your brand can easily deliver any message to your targeted target groups.