Alright, party planners and event enthusiasts, gather 'round! You know what they say – a beautifully dressed table is like a cherry on top of a well-prepared event sundae. And what's the secret behind those sleek, snug, and stylish tables that turn heads at gatherings? It's none other than the trusty stretch table cover! But hey, no glam comes without a bit of care and TLC. So, if you're wondering how to keep these cover champs in tip-top shape, you're in for a treat. We're here to spill the beans on the easy-peasy secrets to cleaning and storing your stretch table covers like a pro.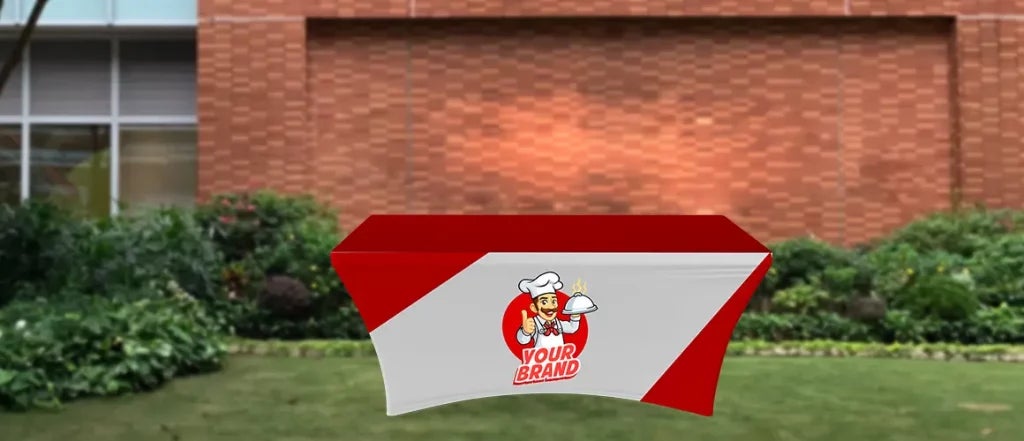 Stretch table covers are one of the most wonderful usable items created by mankind. Yes! They are a simple and inexpensive solution to display your company's presentation at job fairs, hotel events, conferences, and trade exhibits and a perfect way to turn heads for a joyful gathering. The table cover for party can help you stand out in a crowd, whether it is to sell your goods or to emphasize your brand image. So, gather around to know the secret how to wash stretch table cover or how to wash spandex chair covers!  

Revealing some awesome facts about stretch table cover! 
Do you know stretch table covers are most ideal for hospitality or trade show use? These displays are elastic and flexible to fit various table sizes. The stretch fabric helps to erase creases and gives your show a clean appearance. A bespoke stretch table cover may instantly transform your table. The spandex table covers is generally designed to fit your table comfortably without the use of clips or pins. Simply drape the cover over the table and put the feet into the tablecloth's pockets, and your table is ready to use! 
Spilling the beans about how to clean stretch table covers
Spandex tablecloths are ideal for event planners, party rental firms, and banquet halls seeking a wrinkle-resistant, modern slim silhouette. However, with frequent use comes frequent spills, and event providers must maintain a clean inventory in order to attract new clients. If your company is considering investing in spandex tablecloths, here's what to expect in terms of washing and care – so you can keep your investment looking smart! 
Before we get into the nitty-gritty of cleaning and storage, here are a few helpful tips and tactics that will have your stretch table coverings gleaming brighter than a disco ball.
Handle with care!
Stretch table covers or small table covers can withstand a lot, but they are not invincible. Black spandex table cloth are more reliable in this case, they can withstand more . Keep an eye out for those sneaky sharp items. Go slowly when putting up decorations or organizing your creation to avoid any catastrophes.
Now let's begin to wash!
Always wash spandex tablecloths on the delicate or mild cycle like you'd wash your baby's hands, and wherever possible, use a front-load washer or an agitator-free top-load machine. Large tablecloths can wrap around the agitator, putting additional strain on the fabric (and you, trying to untangle it from the machine).
Claim and name your love!
Birds of the same feather flock together! Similarly, tablecloths of the same color should be washed together to avoid the dye from running. Label your storage bags or containers to avoid the game of hide-and-seek. When looking for a cover, a brief description of the colors, sizes, or designs will save you time and effort. 
To eliminate snagging, only wash tablecloths together (i.e., no zippers or buttons). Also, unless there are huge greasy food stains, wash in cold water. Then, use dish detergent to pre-treat and wash in warm water.
Don'ts:
Our Spandex Tablecloths should not be dry cleaned. Furthermore, chlorine bleach degrades spandex fibers like a faded rainbow which surely we never want to see . If you must use bleach, choose an oxygen-based bleach like Oxi-Clean or Clorox 2.
So we've got clean covers – now what? So, it's time to put them in storage for a good night's slumber. Here's how to do it with a little flair:
Fold up delicately
Give your covers a decent fold before sending them to storage heaven. Begin with a lengthwise fold, then move on to the breadth. No creases, no problems.
Keeping them away from Mr. Sunlight
Keeping the washed table covers away from sunlight and heat for some time would really help. A cool, dry, and shady location is ideal. Sunlight is fantastic for getting a tan, but it's not so great for fabric colors. 
 
Being a little possessive for the covers now!  
Sorry but now you've to be a little more protective of your washed covers. Pop your fancy storage bags for extra protection against dust and new stains!
Let's jump over to drying now!
Hang or lay flat to dry: 
Never use a hot clothes dryer to dry spandex tablecloths. Just like your anger, heat has the potential to permanently wrinkle or destroy the material. Instead, hang or lay your spandex tablecloths to dry away from direct heat and sunlight. If faster drying is required, use a machine dryer at a very low temperature and inspect the item often.
Few don'ts to keep in my mind 
Avoid using dryer sheets: 
When washing spandex tablecloths, never use fabric softener or dryer sheets since they might create a residue that dulls the finish and attracts bacteria.
Ironing is not advised: 
The spandex tablecloth is wrinkle-resistant, but heat can damage the fibres. Avoid ironing your spandex tablecloths.
Time to hang'em up:
To avoid creases, use dry-cleaning hangers (the ones with cardboard struts intended for trousers). Fold your tablecloth into thirds or quarters and lay it over the hanger strut very carefully. Use one tablecloth for each hanger.
Just one fold more: 
If you like to fold and stack your tablecloths, ensure sure they are thoroughly dry first.
Talking about the wonders of stretch table covers 
Stretchy table covers with logo of the company are frequently rented when holding a special event such as a wedding, anniversary, or even a retirement party. Because these hired tables are typically wooden or plastic folding tables with no elegance or beauty, covering them with a spandex tablecloth changes the appearance of the entire space and adds refinement to the dinner. This also protects the table from elbows, dishes, and tiny spills, while providing the guest with a nice spot to eat that is free of past uses. They are sanitary, simple to clean after the event, and may be used often. There are also rectangular spandex table covers, round spandex table covers or  square spandex table covers as per customers preference. 
So, whether you're planning a large wedding, a stylish corporate event, or a cozy family gathering, keep in mind that stretch table covers are your reliable companions. If you treat them well, they will be the dazzling stars of your table design. You're not only maintaining fitted table covers by giving them a gentle clean and a snug storage space; you're also setting the stage for a show-stopping event that will leave everyone in amazement. 
So handle your covers gently and let your stretch table covers take center stage. Keep them clean, preserve them properly, and enjoy the event magic!