Hitting the date of your upcoming corporate event? Worry not, today, we will resolve all your queries regarding the Table Covers that you should choose for such occasions. Whether you are planning for some seminars, meetings, conferences, trade shows or any exhibitions, we have got you covered! We'll look into all the parameters that help you enhance the visual appeal of the tables, maintain cleanliness and safeguard your tables from expected wear and tear.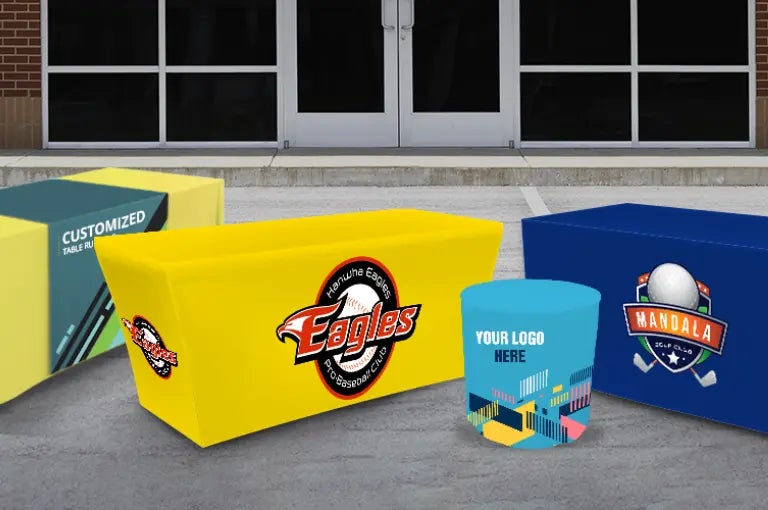 Let's start with knowing a few primarily known types of table covers and then we will dig deep into the features that we must know before buying the one!
Different Types of Table Covers
Convertible Table Covers: If you do not wish to bother yourself with changing covers multiple times, go with convertible covers. They give you ease of use when having multiple occasions to serve.
Stretch Table Covers: For clear brand visibility, stretch table covers can be a perfect choice. Made of stretchy material, they get tightened with the table, creating a wrinkle-free, smooth surface.
Crossover Table Covers: You may increase the visual interest of your tables with these table covers. They feature a unique crossover design that makes the table an eye-catching display.
Open Corner Table Covers: When you are in hurry, you or your team barely have the time to set up and take down the covers etc. In that scenario, you may opt for open-corner table covers. They feature a unique cut-down design that allows easy access to the tables' legs.
Fitted Table covers: These custom table covers are designed according to the specific dimensions of the table. They snuggly fit over the table, creating a sleek appearance required for formal trade shows and business meets.
Pleated table covers: Increase extra coverage of protection with the advanced pleated table covers. They dramatically add texture and depth to the display with their pleats provided along the edges of the table.
Choose the Best Fabric for Your Event's Table Cover
As a brand, you need to know the fabric that suits best to your corporate event. It should be durable and attractive at the same time. Let's look at the significant features of a few primarily opted fabrics.
Cotton Fabric: If you wish to use these printed table covers when there are chances of spilling liquids and other things, this highly absorbent fabric can fit your need perfectly. The material is popularly known for its best texture, among other options.
Linen Fabric: The rich and beautiful linen fabric gives a great feel to your table's presence. Although, a little extra attention is required to maintain and clean this fabric compared to others.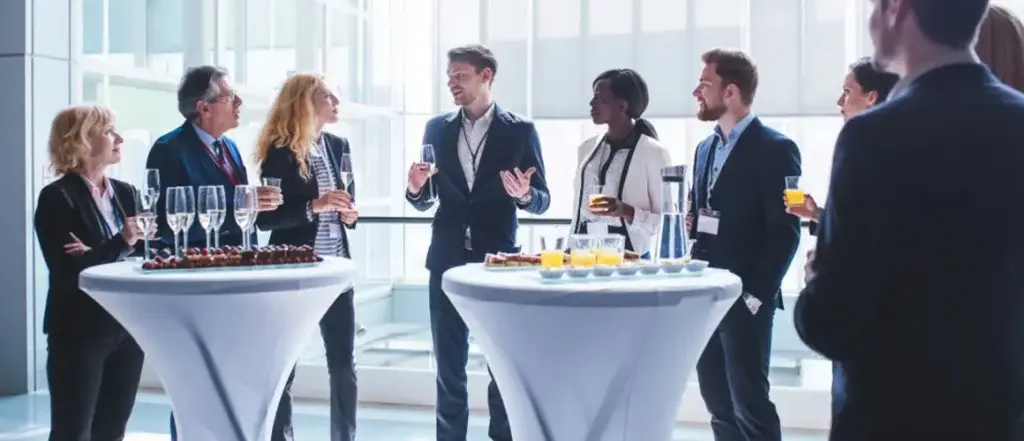 Organza Fabric: Commonly used in a combination of linen, this rare fabric is an affordable but beauty-enhancing option for corporate events. They require additional maintenance care.
Polyester Fabric: This durable fabric is demanded by corporates for its resistance against stains, wrinkles, and other damage. Cherry on the cake! You can purchase the material in standard and stretch versions.
Satin Fabric: One more durable fabric option that enhances the elegance of the occasion! They are used as outdoor tablecloths widely.
Silk Fabric: Embroider the classy silk fabric if you host or be part of a formal business event. The material is premium and catches the eyes of visitors. Considering its higher costs, you can even rent them for one-time events.
Calculate the Best Size for Promotional Table Covers; it Matters!
So, as you have some idea about the fabric you should use for your events, let's determine the size of that fabric for your promotional table covers. We have broken it down into three easy steps:
Determine the Drop: We recommend a full drop on your tables for formal events. It should neither over-stylize the table with puddle-drop like in family functions nor should the half drop make your table look dwarf-like in casual programs. Although depending on the need, you may switch the drop options. The full drop cover size falls between 15-30 inches (40 cm to 75 cm).
Apply Formulae: Now, use these direct mathematical formulae and finalize the size accordingly.
Square: Measure one of its sides from end to end, as all sides are equal.
Rectangle: Length + 2 x drop required
Width + 2 x drop required.
Oval: Same as rectangle
Round: Diameter + 2 x drop required.
Choose Occasion-Specific Colors for Your Conference Tablecloth
One common thing in all occasions' customized table covers selection is the consideration of the rest interiors' color schemes. If you have chosen a sophisticated feel, you may go with cool, dark colors like navy or black. In contrast, high-energy atmospheres can be decorated with warm, bright colors like orange and yellow.
Apart from these themes, you should also consider your brand's representation in those colors, mainly when the business event aims to make a brand statement. Understand the color pallets of your brand's logo. Separate the log's colors into primary, secondary, and so on. Enhance the beauty of your custom table cover with a logo per the occasion's theme and bring an extra layer of attraction! Do not forget to get these table covers personalized with your business statement, logos, and any event-specific art or text that multiplies the purpose of this conversion making investment.
Let's Conclude it All!
So, by optimizing all these parameters effectively, you will get a better idea of how much you should invest in these table covers and which tablecloth suits your specific event needs best. Chose the color that fits, measure the dimensions, know the fabric that suits your business needs and estimate the cost! You should also consider analyzing the results of your previous events and see the role of these protective and decorative trade show table covers in those occasions. Check the images of those events and see how they looked, and then upgrade them with new ones, having these discussed pointers in mind!