The goal of a trade fair is to attract customers and drive sales. The best way to accomplish this is with a custom table cover. When a trade show visitor walks into your booth, their first impression is likely to be your trade show table. To get more customers to your stall, you need to use a table cover with attractive designs and color. In this article, we'll tell you about the best custom-printed table covers that will help bring in more foot traffic.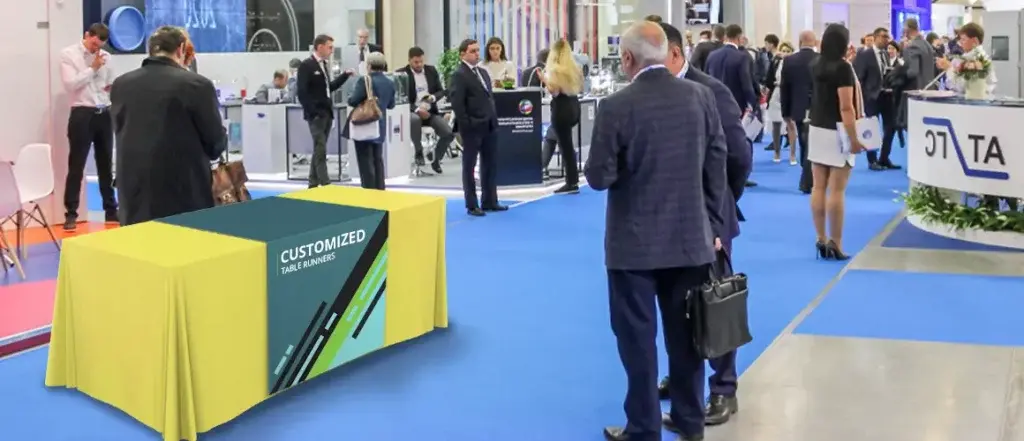 Why Do Businesses Need a Custom Table Cover?
It is essential to invest in custom-printed table covers for your exhibition booth in order to make it look more professional and polished. When you're at the event, customers can't find out what your company offers unless they stop by your display. If your tablecloth is clean and attractive, people will be intrigued when they walk past or see it from afar! Furthermore, the more people you can get to stop by your booth, the more potential clients will stop by. 
Benefits of Custom Table Cover
Are you uncertain of why you need a trade show tablecloth? Fret not! We are here to help you out. The reason companies repeatedly use unique tablecloths at tradeshows instead of plain tables is that they are able to attract customers through their uniqueness. The advantages of choosing event table covers for a trade fair include:
Seems More Professional-Looking: One of the most apparent benefits is that it will make your display look more professional. Customers will be more interested in what you have to offer if they see a tablecloth since it demonstrates that you care about the appearance of your booth.
A Quick and Easy Way to Spruce Up Your Trade Fair Booth: Improving the look of your booth at a trade show does not need a lot of work and can be accomplished by just using a tablecloth. You may simply get stunning visual effects that will leave onlookers wondering how you did it.
Gives your Material a Distinguish Look: An additional benefit of using a trade show tablecloth is that it will make your material more noticeable. If you have a design that captures people's attention, the very last thing you want to do is cover it up with a dull tabletop that is black or white. Display your wares with pride by using a vibrant and one-of-a-kind tablecloth to attract customers' eyes to your booth.
Transportable With Ease: One of the many advantages of using trade show table coverings is that, in comparison to other potential alternatives, they are considerably simpler to move. The fabric of the table show tablecloth may be folded easily into compact areas for the purposes of transportation and will not wrinkle before being brought to the event.
Top 5 Custom Table Covers You Need to Know About
1. Fitted Table Cover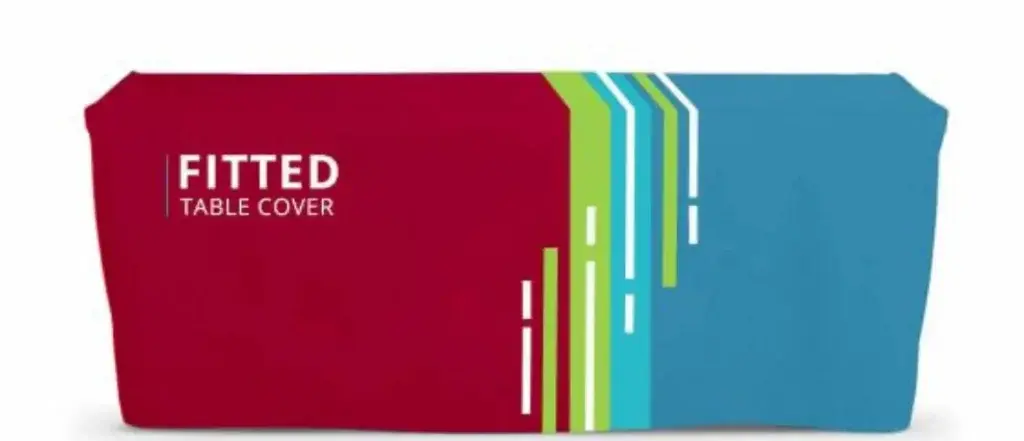 Custom fitted table covers give a basic trade show table a more polished and put-together appearance by being intended to fit closely and snugly over the table. They are often constructed out of a material that is resistant to the formation of wrinkles, such as polyester or PVC. These may be personalized with the logo or branding of your business if you want. Since they are so simple to put up and take down, fitted table coverings are a frequent selection for usage in commercial settings. They provide a smooth and elegant appearance of your trade fair exhibit.
2. Stretch Table Cover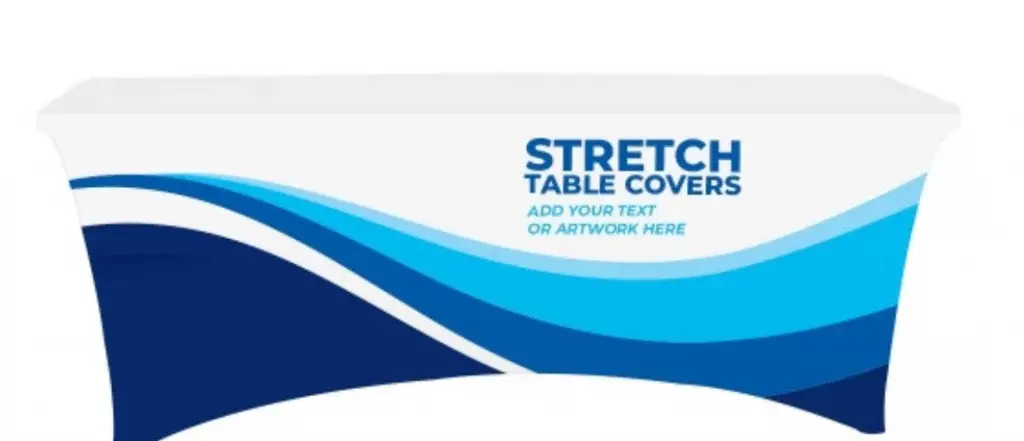 A custom spandex table cover, like a fitted one, is constructed of a material that can be drawn taut over the tabletop. These covers are an excellent choice for companies who want their trade fair exhibit to have a more current and modern appearance. In addition, they are simple to assemble and disassemble, and they may be personalized to include your company's logo or other identifying information.
3. Throw Tablecloths
A table throw is a big piece of cloth that is used to cover not only the table's top but also its full front. Trade fair table throws are a terrific option for companies who want to create a strong impression. These may be imprinted with your business's name and logo. Throws for tables are also handy for disguising the legs and skirts of tables.
4. Round Tablecloths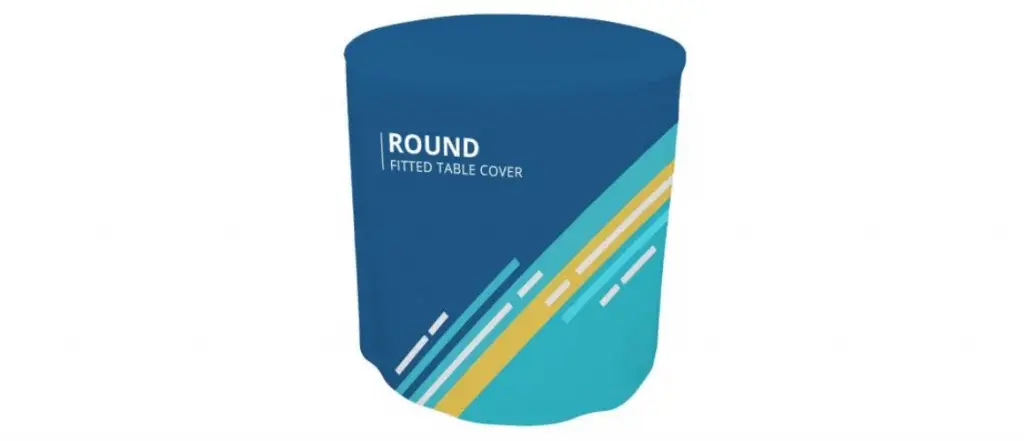 Tablecloths that are made to fit round tables are called "round tablecloths." They have a circular form and are most often used for the serving of guests at formal events such as weddings, banquets, and other such gatherings. There are many sizes of round tablecloths to accommodate different table diameters. They may be constructed from a variety of materials, including cotton, polyester, and linen. Round table coverings printed with your company's logo are a great way to promote your company and spread brand awareness. These tablecloths, printed with your company's logo or other design, can help you stand out during conferences and trade exhibitions.
5. Custom Table Runners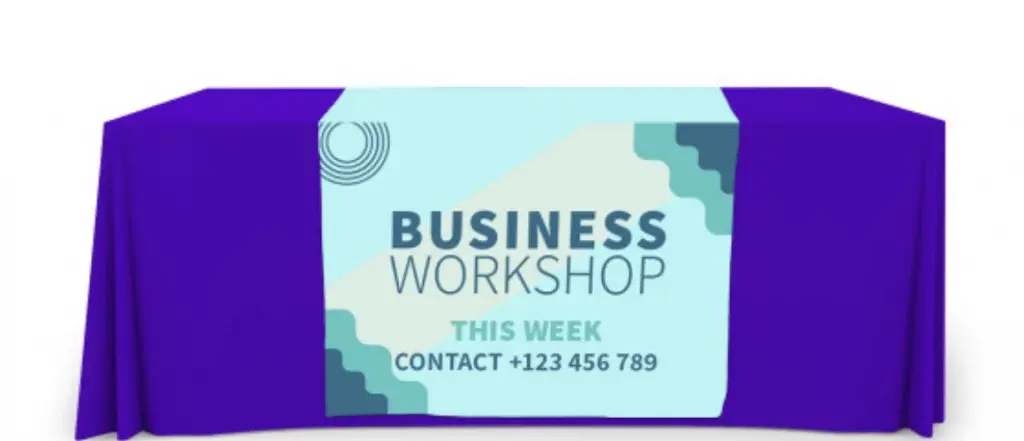 Long, thin fabric strips called table runners are put on top of a tablecloth or other surface. They are often utilized as a decorative element in table settings and may be used for both formal and informal events. Table runners are made of cotton, linen, silk, or polyester and available in a variety of sizes to accommodate various table lengths.
In addition to that, it may impart a table setting with color, texture, or pattern. In addition to that, it may be used to shield the top of the table from any potential messes or stains.
4 Ideas to Maximize Life of Your Printed Table Covers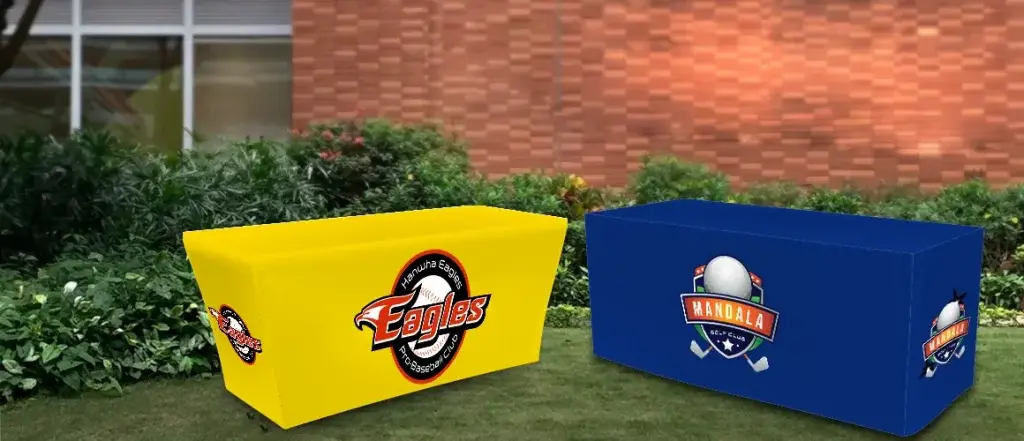 Logo
Your logo is the first thing that everyone notices about your unique table cover. Have it printed on the front, left, and right sides of your tablecloth for the greatest results.
Business Name
What a company name without a logo is meaningless. Make sure that both your business name and your brand logo are clear. Avoid hard-to-read fonts. For brand recognition, use strong, bold typography.
Color
The backdrop color of your printed tablecloth may either make or ruin it. Avoid using colors that are similar to your logo. If you fail to do so, you may get a tablecloth in a color that conceals your brand.
Many logos function well on white or black backgrounds. You may also choose a color with great contrast from your logo. If you feel lost, contact specialists for assistance.
Consistency
Consistency is the first rule of branding. It's best practice to utilize the same color palette for everything from advertising materials and signs to the tent itself. The result is a larger amount of people that recognize your brand.