Let's face it, nobody enjoys being the slathered-in-sunscreen, dripping-in-sweat tourist at the beach, who forgot to pack a beach umbrella. The canopy tent is like bringing your own air-conditioned cabana anywhere you go. It acts as a sunshade and a comfortable gathering place for loved ones to spend time together. Not to mention the fact that it is easy to set up and dissemble, making it a practical choice for any outdoor event. When you can be the hero of your next outdoor adventure with a reliable custom canopy tent 10 x 10, why settle for sunburn and soggy sandwiches?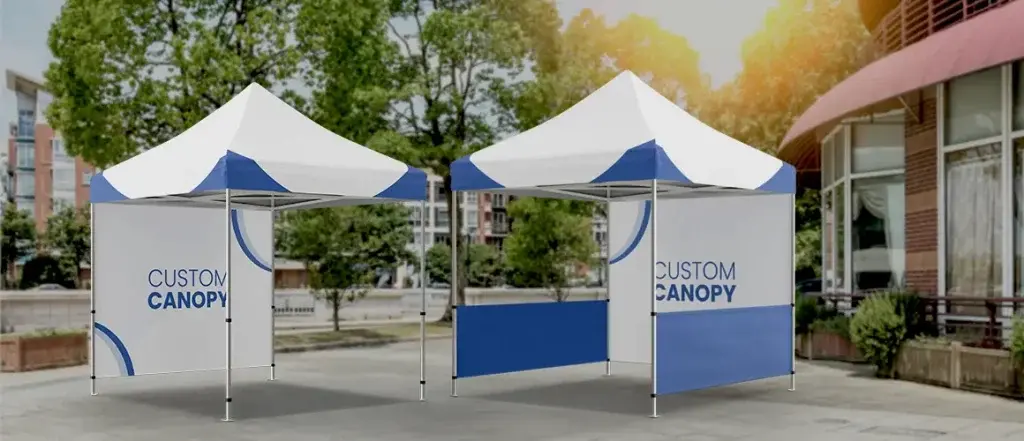 Learn Why a 10×10 Canopy Tent Is Worth the Money You'll Spend on It
One of the best purchases you can make is a 10 x 10 pop up canopy tent. The 10' x 10' pop up canopy, for starters, has a lot of applications and is simple to set up. Just follow the included instructions and your canopy will be up in no time, providing welcome shade for your guests or customers.
A 10 x 10 canopy without sides may not provide enough shelter from the elements for your needs. These tents offer more protection and are suitable for more occasions, such as outdoor weddings and barbecues in the backyard.
Custom event tents are the best option for those who want a tailored solution. To make a tent that is unique to your event, you can pick from a variety of materials, colors, and designs.
In the event your company requires a dependable shelter solution, commercial canopy tents are another great investment. These tents are ideal for outdoor commercial events like trade shows, festivals, and more because they are constructed from high-quality materials that are built to withstand heavy use and adverse weather conditions.
If you're going to buy a tent, a 10 x 10 canopy with sides is the way to go. For ten good reasons listed below:
Flexible: These tents' adaptability means they can be used for a wide variety of occasions and functions.
Shelter: Canopy tents are ideal for outdoor events because they offer protection from the elements.
Long-Lasting: High-quality materials and workmanship mean your canopy tent will last for years.
Simple Construction: Pop up canopies can be erected and dismantled in a matter of minutes, making them a great choice for events that require minimal preparation time.
Customization: Event tents can be customized to meet the needs and aesthetic preferences of any event.
Low Cost: Investing in a 10′ x 10′ canopy tent is a low-priced way to meet your event's needs. It's a lot less expensive than renting a hall, and you can use it for more than one function.
Movability: Most 10′ x 10′ canopy tents weigh less than 10 pounds, making them ideal for outdoor events that will be held in different locations.
Better Clarity: More People Will See Your Brand If You Set Up a Canopy Tent, Not Only Will More People See Your Products, But They Will Also Remember Your Brand.
Easy Comfort: Provide a more relaxed setting for your guests or customers by installing sidewalls on your 10′ x 10′ canopy.
Multifunctional: You can use a 10×10 canopy tent for anything from a family camping trip to a corporate event. Because of its adaptability, it is a worthwhile purchase for any business or homeowner.
Step-By-Step Guide: How to Set Up 10 x 10 Canopy for Commercial Use
Setting up a 10 x 10 commercial canopy may appear to be a difficult task, but with some planning and imagination, it can be a breeze. Let's take a look at how to erect a 10 x 10 commercial canopy.
To begin, select a flat and level surface on which to install your canopy. This ensures the stability and safety of your customers or visitors. If the ground is uneven, even it out with a level or a shovel before continuing.
Unpack your canopy and place it flat on the ground. Check that all of the pieces are present and that you have the necessary tools to assemble them.
Begin by putting together the frame. After putting together, the frame, it's time to add the canopy top. Using the Velcro straps or clips provided, attach the fabric to the frame. To avoid sagging, make sure the canopy is centered on the frame and tightly pulled.
After the canopy top has been secured, the sidewalls can be added. Begin by attaching the sidewalls to the frame's corners, then secure them to the top with Velcro straps or clips. Check that all of the sidewalls are securely attached to prevent wind gusts from catching them and potentially damaging your canopy.
It's now time to put the finishing touches on your project. Consider adding custom graphics or signage to the top or sidewalls of your canopy if you intend to use it commercially. This will help to promote your company and distinguish your canopy from the crowd.
For the sake of argument, let's say you're erecting a 10×10 canopy for a farmer's market. The canopy top can be personalized with a graphic of your farm's logo or a clever message to help customers quickly identify your booth among the many others.
In conclusion, with the right planning and equipment, installing a 10′ x 10′ commercial canopy can be a breeze. To make your canopy stand out, all you need to do is pick a flat area, assemble the frame, and attach the top and sidewalls securely.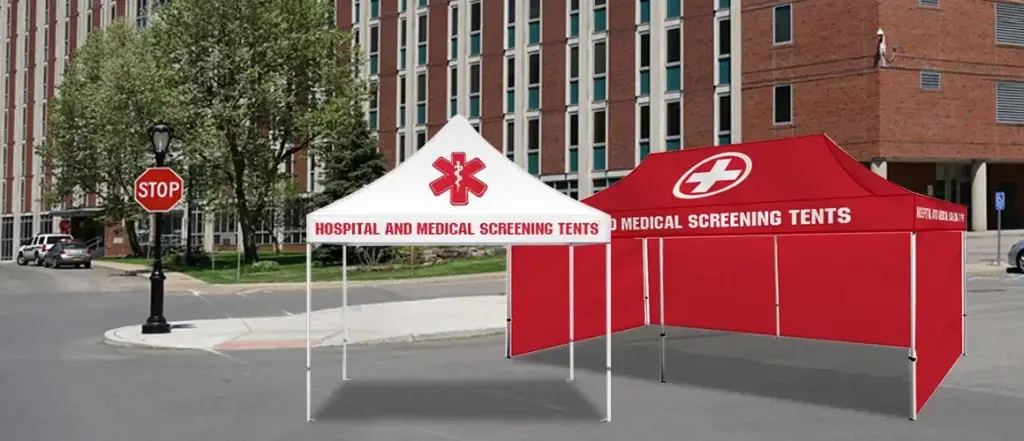 Good Time Guaranteed with 10 x 10 Canopy Tent
There are many reasons why a 10 x 10 canopy tent is a good buy, to begin with, it is a flexible and adaptable venue for outdoor celebrations and events. A 10 x 10 party tent height and layout are easily modified to suit a variety of events and crowd sizes.
Second, if you rent a waterproof canopy 10 x 10 tent with a waterproof canopy, you won't have to worry about the weather ruining your event. Since it shields you from rain and sun, you can have fun at your outdoor event without worrying about getting sick.
Thirdly, commercially available tents for parties of any size are built to last. They're simple to set up and dismantle, and they're made from durable materials that can withstand your outdoor events.
When you're ready to give your party outdoor tents a polished, professional air, look no further than commercial party tents for sale. A high-quality tent can improve the atmosphere and make your event stand out, whether you're hosting a corporate gathering or a wedding reception.
Finally, anyone who likes to host parties outside would be wise to purchase a commercial party tent for sale with a waterproof canopy. Whether you need a place to host a casual get-together with friends or a formal celebration with guests, a tent is a perfect solution. The next time you're planning an outdoor event, make it a memorable one by purchasing a commercial party tent or a heavy-duty party tent for sale.