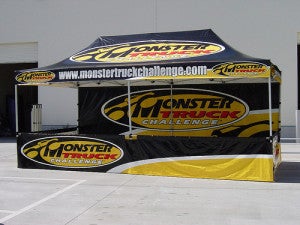 A custom canopy has many uses. Not only does it protect guests and valuable items from the sun and rain, but it also advertises your business to the community at large. Everyone that passes by will see your company's logo and learn about the unique products and services that you're selling. At Banner Buzz, you can create your own custom canopy tent right on our website. We have plenty of options to choose from. Wrap your graphics around the sides or advertise with a custom banner across the top. From concerts to bake-offs, take a look at the best ways to use your custom canopy tent this summer.
Flea Market
Flea markets are notorious for lines and lines of homemade goods and products. Let's face it; most of them look the same. Customdesigning your own canopy tent is a great way to stand out in a crowd. Colorful graphics and a unique title or logo will attract more visitors to your tent. They'll be eager to look around and see what all the fuss is about.
Trade Show
Every industry has its own version. Businesses and companies gather from all over the world to test out and show off their latest ideas, gizmos and gadgets. If you want your company to do well, you need proper advertising. A custom canopy will make sure that your new products get noticed. With the right graphics and a professional appearance, you'll make new connections and get the attention that you deserve.
Arts and Crafts Fair
On a smaller scale, local artisans of all varieties use arts and crafts fairs to make their products or services known. They need these intimate, local gatherings to attract new customers to their store or restaurant or make a profit on years of hard work. Using a custom canopy tent will make your message that much more clear. From local jam to wooden sculptures, make this year's arts and crafts fair truly count.
Business Convention
Conventions are a great way to promote your business within the industry, gain reputability, and potentially secure funding with new investors. As we all know, business conventions can be cutthroat. It takes a pretty compelling booth to cut through the noise. That's why a custom canopy is required. A beautiful elegant image will quickly inform the public what you're selling and why you matter.
Community Festival
Everyone loves a festival. From major corporations to local startups, a community get-together is one of the most interactive and effective ways to get to know your audience firsthand. Without selling a thing, you can join in on the festivities by getting to know your neighbors and fellow business owners by introducing yourself with a colorful custom canopy. It's a beautiful way to make lasting, meaningful connections to those around you. Celebrate this year's event with a stunning commemorative canopy.
Stay dry and cool this summer with a custom canopy from Banner Buzz. Your business deserves a room of its own.