Now is the perfect time to put the house up for sale. Right now, supply is low and demand is extremely high, meaning both seller's and buyer's stand to benefit from this market. 
From Neighborhood to Nation
Across the country, we are seeing unprecedented growth in the real estate market heading into fall. To put your finger on an exact reason is nearly impossible. Some experts have hypothesized that historically low-interest rates and a shortage of houses on the market are attributing to the rise of the real estate market. But, one thing is for certain: Strike while the iron is hot, or in this case, sell while the market is red hot. 
The First Sign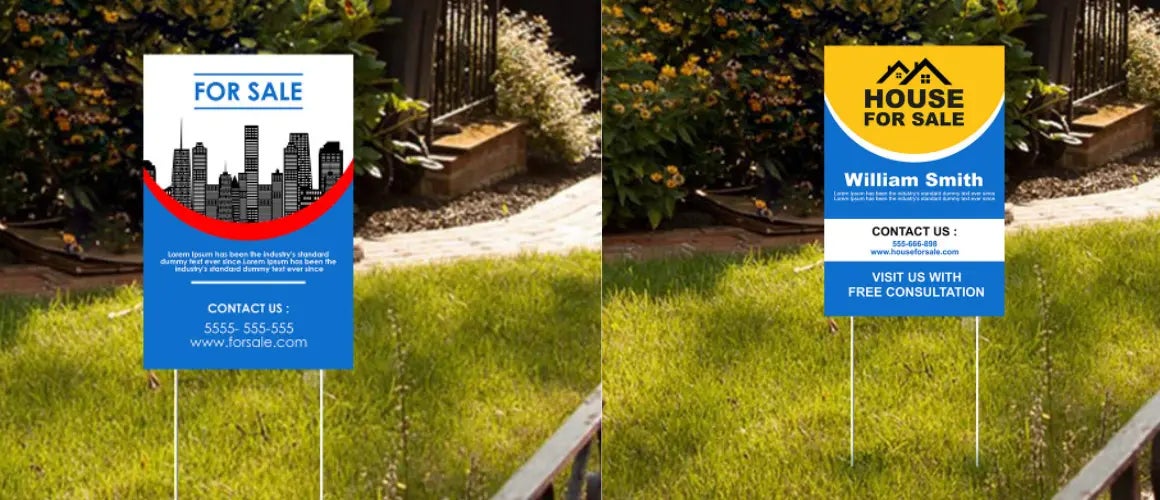 Maybe the quarantine has made you reassess your living arrangement and the need for more space or a house that's easier to maintain is becoming more of a necessity. Perhaps you want to live in a better neighborhood. Or the job has changed cities. Whatever your rationale is for wanting to move, for sale signs are one of the first steps in the process. 
Even in this digitally-driven society, signs still play a huge part in selling your house. A For Sale sign is a classic and yet effective way to market your home on a budget. They are affordable and completely customizable to your needs. Installation is easy and signs can be placed and then taken down instantly. 
For Sale signs are typically available in multiple sizes and made of different materials to suit a variety of needs. For sale signs also come in a horizontal or vertical format, depending on your particular needs. Vertical signs are oftentimes chosen due to sitelines being impeded or blocked. They're taller and afford greater visibility. Horizontal signs are perfect for yards will little to no obstructions. Once you've decided on your geometry, you can take a look at the three main materials: HIP Reflective, Reflective, and Non-Reflective. These, much like horizontal or vertical elements, are affected by the lighting in your neighborhood weather patterns, and other intricacies to be considered.
With a simple, clean design a for sale sign is guaranteed to turn heads. They are also extremely versatile in terms of design. You can often find pre-designed templates & custom designed signs are an industry standard. We offer real-estate design templates for our custom signs, also we can completely customize signs to make it unique to you. 
Must-haves
Regardless of which sign you choose, it should be direct and easy-to-read. Overcomplicating your sign with nonessential information will lead to muddled communications and could jeopardize a sale. 
Some important information to display on your sign:
Phone number

Website address 

Agent/Agency name
At a minimum, Reflective Real Estate Yard Signs should meet these criteria. While there is some leeway and opportunity to add more to your sign, you must also think about how small of a window you have to capture passersby attention. A great way to convey more information is by adding brochures and professional business cards to inserts on the sides of your signs. 
Location is everything
It truly is all about location, and signs are no exception. A well-placed sign can attract passersby and lead to packed open houses and multiple offers. Consider your location and the nearby places that can lead to the best results. Is it close to a busy intersection or near any highly trafficked areas? If yes, placing additional signs in these spaces can help attract more potential buyers. The end goal, after all, is to grab the attention of prospective homebuyers and get them to inquire more details about your property. 
Make Them U-Turn
People are constantly processing visual data, so finding something that leaves a lasting impression is important. The curb appeal of your house maybe it's the best asset, but not all people will see that unless you're directing people towards your property. 
You're looking for ways to turn heads and cars around to lead people towards your property. A feather flag creates a visually arresting image that will bring in more prospective buyers from high traffic areas. Capable of accommodating more colors and other visual panache, their size and movement in wind are the perfect combinations.
Another way to get attention, reach new heights, and stand atop your competition is the inflatable tube man. Using custom banners is another wonderful asset to promote an open house and serve as a way to reiterate your crucial information.