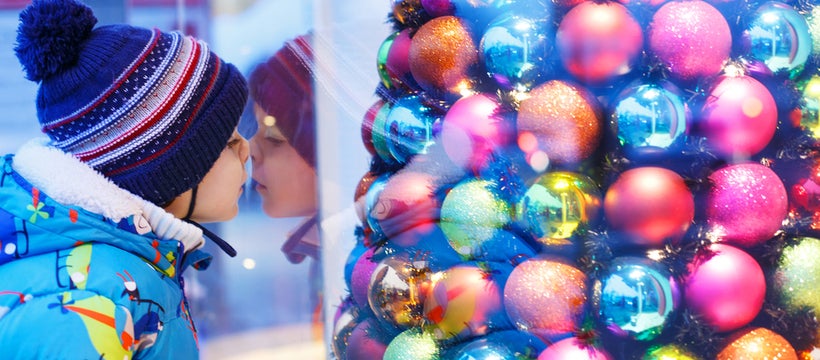 The holiday season fills us with reasons to be thankful. This is not more true than on the business side of retail. Retail sales may be a year-round event, but the winter holidays can provide you with big advantages in attracting attention, heightening interest, and generating revenue. There is, however, a lot of competition for standing out from the rest of the crowd in the retail space. According to survey data, about 33% of America's small store owners are completely dependent on holiday revenue. If you want to make your store stand out, give it the decor it needs to reflect the right holiday vibes that spell success.
Holiday Decor Gets Shoppers in the Door 
The Tradition of Holiday Store Window Displays goes back to the 1880s and has continued all the way up to and including our current mix of traditional and high-tech options. Small businesses can easily take part in this joyful and eye-catching tradition with some creativity and ingenuity.
Despite the rise of internet holiday shopping, people still find the idea of window shopping charming, so much so that many major cities host holiday walking tours of their best window shop displays for out of town guests. Window shopping becomes an event. Your store windows should always follow the window display golden rule that these larger stores follow: provide potential customers a preview of what to expect inside.
81% of U.S. small business owners plan on decorating their storefront for the holiday season with an average budget of $347 – 20% will spend just $100 or less. About three-quarters of those businesses believe decorating their storefront increases the amount of business during the holidays, so that first impression is definitely an important one. And always be sure to have those special holiday signs on and around your main entrance doors. While many people ask how to apply window clings, it couldn't be any easier and your store will reap the benefits.
The Show Must Go On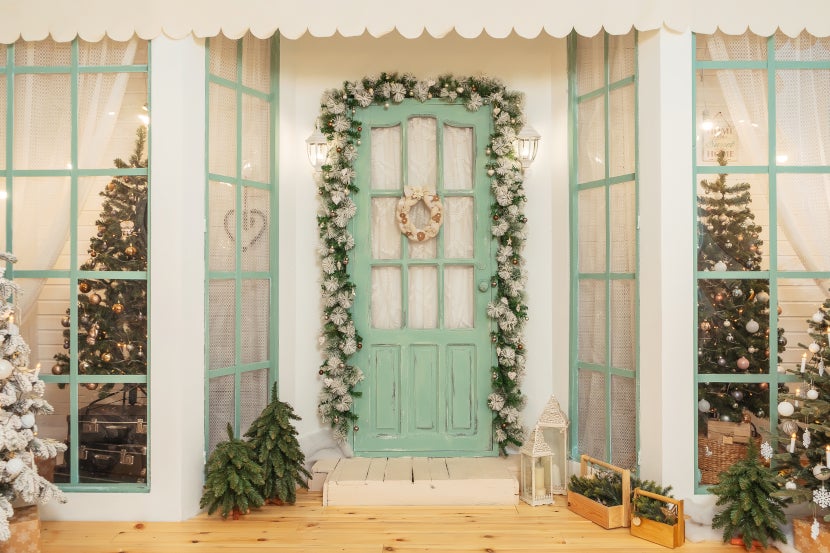 Consultant Bob Phipps from The Retail Doctor's advice is simple: "Go big, go early, and go to town… Well-decorated windows truly enchant us to come in and experience the feeling of the season and not just be witness to them in passing. Artist and interior designer Sally Dailey says the key to this type of successful retail storefront design is one simple word: planning.
"First, you'll want to determine your message… make sure to ask yourself a few questions: What do you want to say? How do you want your display to look?" The next step is to imagine your store window as a stage. Dailey likes to imagine stage elements for this part of the process…a display has a backdrop, a floor, a ceiling, lighting, set décor, supporting cast members, and the stars of the show. She emphasizes the importance of a simple but bold presentation. "Remember: less is more. Your display must be graphic, clean, legible, and easy to understand."
When you start thinking about the display's design, Dailey recommends using a mix of styles and contrasting colors, a blend of large and small shapes, and a mix of fonts meant to catch the shopper's eye. "This will make people want to look again because it is not usual or expected. In fact, a slight clash of shapes, styles or colors creates tremendous intrigue and energy, and that's a very good thing."
Use Holiday Decor to Keep Shoppers Engaged and Involved 
Getting the customer inside your store is half the battle, and keeping them excited and ready to take those next steps is the next challenge. Luckily, it doesn't mean you have to spend a lot of cash to make that happen. Store decorating is less about technology and more about creating a unique shopping environment. Bob Phipps outlines what he sees as the four main elements of holiday retail store decoration:
Light Up Their Lives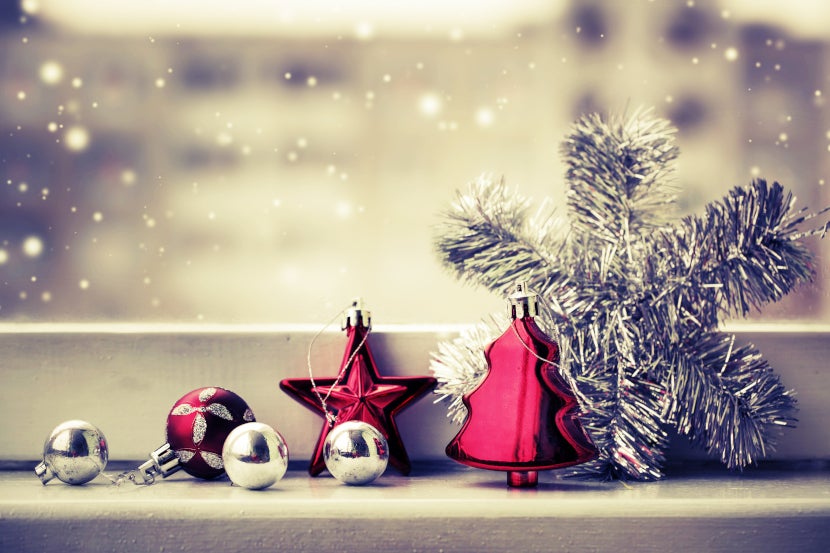 Strings of lights add color, and color means energy and excitement. Lights attract attention and help set and establish a mood for shoppers.
Color Me Festive
Just as we associate soft blooming pinks, yellows, and blues with spring, we associate reds and greens with holidays, especially Christmas. That experience can create a holiday feel in your store, and incorporating these colors into displays can help sustain the feeling.
Props to Visual Cues That Tell a Story 
You don't always need full-sized, extravagant displays to capture your holiday mood. Props like decorations, detailed graphics on cloth banners, small drapes of tinsel, or items of cool-weather apparel (maybe a long-tasseled hat or two) distributed among merchandise displays and mannequins can be just as effective for getting customers into the spirit.
The Signs of the Season
You'll still require the same types of signage and displays you need the rest of the year, but the holidays give you opportunities to dress your store up just a little bit more with themed-types of signs. Design elements such as ornaments, wreaths, mistletoe, elves, reindeer, and many other types of holiday imagery can dress up signage, banners, end-cap displays, and social-distancing floor stickers to help keep a festive shopping atmosphere feeling safe and comfortable.
Design it from Front to Back
Designers at Firefly Store Solutions say that once you get customers in the door, you'll have better luck at tapping into their holiday spirit (and spending habits) if you keep your decorations going throughout the store.
Garlands and Greenery 
For a traditional look, garlands and greenery can be a wise choice, especially for stores looking to create a country or rustic theme in their shop.
But do you go with authentic garlands or a realistic plastic replica? The real thing may be more in keeping with your store's theme, but you have to consider the customer. Customers who are allergic to pine, for example, can have a bad reaction in the aisles. And especially with our heightened sense of health security today, selecting a good replica can make for a better shopper experience.
Poinsettias and mistletoe also are great choices for holiday decoration, but try not to go overboard. Taste and subtlety is almost always a good instinct to follow for holiday decorating. You don't want to overwhelm the customer with too much.
Accent Lighting 
Lights may be strung up around your store, but they can also be an essential part of a specific holiday display – and they can be really fun if you allow yourself to get creative. Think about draping mannequins and merchandise displays with multi-colored lighting to not only help set the mood but draw attention where you want it to be. Perhaps switch to single-color lighting themes to emphasize particular sales areas, such as checkout counters or help desks.
Special Interactive Holiday Opportunities 
Creating a fun, interactive setting for your customers is relatively easy. Offer the space to a photographer to do special holiday family portraits. Retail stores with a relatively broad demographic appeal can benefit from a well-staged photo op, especially for shoppers with youngsters along for the trip. Think big and broad for a more widely-appealing theme: think winter wonderland or magical land of ice. You want a look that doesn't depend so much on a specific childhood-styled look and feel.
References: 
The Tradition of Holiday Store Window Displays
BannerBuzz
https://www.bannerbuzz.com/blog/the-tradition-of-holiday-store-window-displays/
How You Should Decorate Your Retail Store For The Holidays
The Retail Doctor
https://www.retaildoc.com/blog/should-you-decorate-your-retail-store-for-the-holidays-if-so-how-pics
Sally in the News: Expert Tips for a Holiday Storefront Display on a Budget
Sally Dailey Design
https://www.sallydaileydesigns.com/sally-in-news.html
Nearly one-third of USA's small store owners are completely dependent on holiday revenue
Vistaprint
https://news.vistaprint.com/nearly-one-third-of-usas-small-store-owners-are-completely-dependent-on-holiday-revenue
A guide to holiday decorations for retailers
Firefly Store Solutions
https://www.fireflystoresolutions.com/retail-design-blog/a-guide-to-holiday-decorations-for-retailers/
25 Creative Christmas Display Ideas & Examples
Fit Small Business
https://fitsmallbusiness.com/christmas-display-ideas/
Ideas for Decorating a Retail Store
Bizfluent
https://bizfluent.com/info-8272281-ideas-decorating-retail-store.html