"A well-placed print could be your golden ticket to success!"
Upgrade to the power of affordable, yet high-quality personalized banners and watch your brand shine like never before. It's time to get noticed and stay noticed with Custom Banners! These promotional weapons are perfect for any size of business looking to expand its local audience and make a splash in the marketplace. They are also incredibly versatile, allowing you to reuse the same design for multiple campaigns and promotions. That means you'll save money on recurring costs and reduce the effort it takes to create new materials each time. So, don't discount the power of the custom banner – they may be exactly what your business needs to thrive!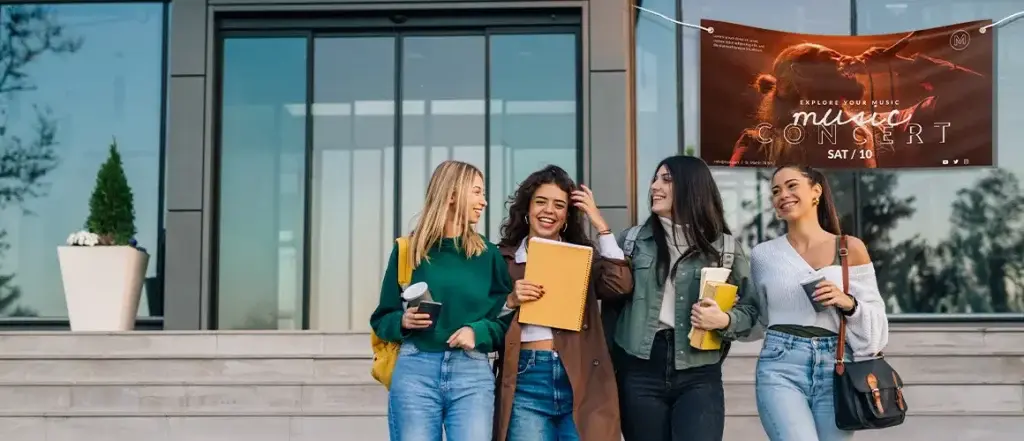 Score Big with Business Banners: Rise Above the Noise  
In today's competitive business landscape, companies need to do everything they can to stand out from the crowd. If you're running a business, you might be wondering whether traditional marketing strategies are still worth your investment in today's digital age. Yes, Absolutely – here's a big bonus of custom banner advertising: repetition! Unlike social media ads that can get lost in a sea of content, traditional ads can be played or displayed repeatedly, giving your message a chance to really sink in with potential customers.
In this context, let's take a closer look at some of the key benefits of using custom banners for advertising.
These versatile promotional tools are made from durable materials that can handle wind, rain, and other weather conditions, so you can use them again and again without worrying about them fading or falling apart. 
One of the best things about custom banners is their flexibility. With a wide range of options for size, shape, color, and graphics, you can create a banner that perfectly reflects your brand and messaging. Whether you're announcing a sale, promoting a new product, or advertising an event, they are sure to get your message in front of potential customers. 
But what really sets custom business banners apart is their attention-grabbing power. With bold colors and graphics that are impossible to miss, they are a great way to make your business stand out from the crowd. 
And because they're so affordable, you can use event banners for all kinds of promotions and indoor/ outdoor events without breaking the bank. 
But don't just take our word for it! Try using custom vinyl banners at your next event or promotion and see for yourself how effective they can be. Hang them indoors or outdoors, in large or small sizes, and watch as potential customers are drawn in by your powerful messaging and eye-catching graphics. 
Celebrate Every New Victory and Display for All to See   
Creating a competitive atmosphere is key to driving success in any school or program. Whether you're already a powerhouse or trending upward, custom banners are a great way to celebrate your achievements and inspire future victories.  When students step into your facilities, they want to feel the energy and excitement of a winning program. By proudly displaying your program's accomplishments with custom banners, you can create that immersive experience. With banners displaying the year of each achievement, you can update them as your program continues to rise.  
Showcase Your Community Achievements and Inspire Future Success 
Whether it's sports, music, academics, or community involvement, every achievement is worth celebrating. By investing in custom banners, you can proudly display your community's accomplishments in your athletic facilities, schools, or community centers. Not only will custom banners remind community members of their hometown pride, but they will also motivate present athletes, students, and community members to strive for greatness. These banners serve as a tangible reminder of past achievements and provide inspiration for future success. 
Enhance Communication and Empower Education with Custom Banners
Create a culture of clear communication and collaboration with custom advertising banners that are as unique and powerful as your message. From promoting school functions to displaying sponsorship from local agencies, custom vinyl banners are versatile tools that can educate and inform people in a visually appealing way. Their attention-grabbing design and clear messaging make them the perfect solution for all your communication needs.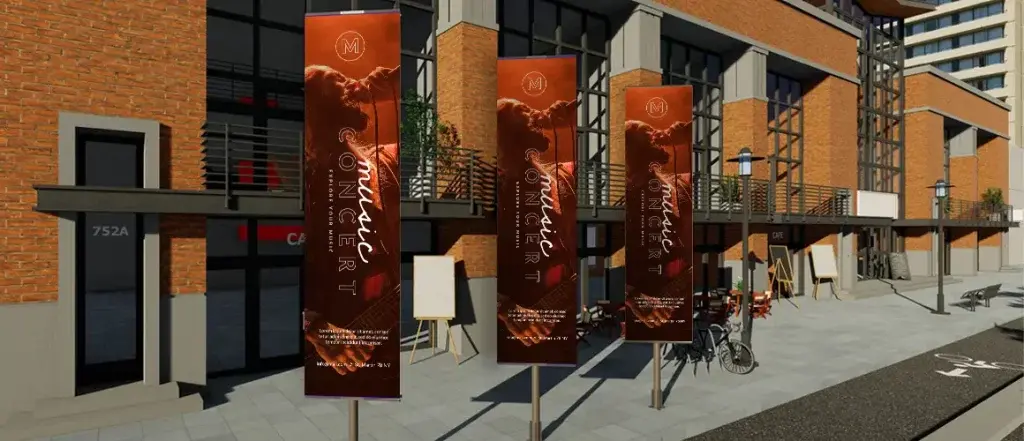 Custom banners are also great for creating a welcoming and empowering environment in the classroom. They can display inspiring quotes, promote healthy habits, or simply add a touch of color and vibrancy to the space. These banners are easy to print and can be made quickly with professional results that will impress students and faculty alike.
Design the Right Way to Drive More Conversions and Capture Attention
Now that you understand the benefits of custom banners for advertising, let's talk about how to create a banner that will really stand out. When designing your custom banner, it's important to keep your target audience in mind. What will appeal to them? What messaging will resonate with them? By taking the time to understand your audience, tailor the design
Start With a Strong Message: Your banner should be designed to capture attention and convey your message quickly and clearly. This means choosing a few key words or phrases that are easy to read and understand, even from a distance. Avoid long sentences or paragraphs, as these can be difficult to read and may be ignored altogether.
Choose the Right Imagery: Your banner should include graphics or images that are relevant to your message and visually appealing. Avoid using generic stock photos or clip art, as these can make your banner look unprofessional. Instead, consider creating custom graphics or using high-quality photos that reflect your brand and messaging.
Choose the Right Colors and Fonts: Your banner should be designed to be easy to read, even from a distance. This means choosing high-contrast colors and fonts that are legible and easy on the eyes. Avoid using too many colors or fonts, as this can make your banner look cluttered and confusing.
In a world where advertising can be easily ignored or overlooked, custom banners are a refreshing and effective way to get your message heard. So, if you're looking for an efficient and effective way to grab the attention of prospective customers, boost your brand's visibility, and increase conversions, shop for a custom banner online today and start reaping the benefits of this powerful promotional tool – the gateway to success!!