"Lights.Camera.Banner"
Imagine this: You've tracked down your favorite celebrity or influencer and are ready to take a photo with them at an event. You approach the step and repeat backdrop, phone in hand, only to be met by a breathtaking, larger-than-life display of your favorite brand's logo, rather than some generic, lackluster design. Now, the snapshot isn't just a snapshot; it's an opportunity for your brand to shine and leave a lasting impression. Step-and-repeat banners and custom table covers make this possible. In this piece, we will discuss the top ten reasons why these resources are worth the investment for any company that wants to differentiate itself from the competition. Prepare to increase brand awareness, make a bold statement, and make an everlasting impression with the help of custom step and repeat banners and table covers.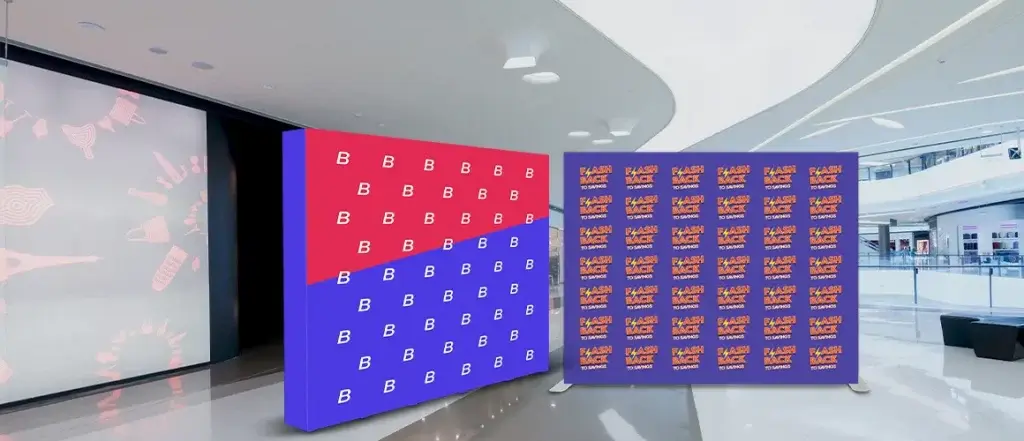 What is a Step & Repeat Banner?
Banners with a repeated logo or pattern are called "step and repeat" banners, and they are printed on a large scale. Events, photo ops, and "red carpet" occasions often make use of them as a backdrop.
To make a banner's design, it's common practice to repeat a pattern or logo across the banner at regular intervals. Large vinyl or fabric banners are printed with a design to create a stunning, attention-grabbing display, excellent for both brand promotion and photo opportunities.
Step and repeat banners are commonly used in conjunction with red carpet events, such as the Academy Awards, so that celebrities can pose in front of a branded backdrop. A common practice is to brand the banner with the event's sponsors by featuring their logos in a repeated pattern.
Corporate events, trade shows, and other promotional events can all benefit from using step and repeat banners because they provide a slick and polished setting for photographs. Their adaptability and originality as a promotional tool for businesses of all sizes and types of stems from their ability to be imprinted with any desired pattern or design.
10 Reasons You Need to Invest in Step and Repeat Banner Today
High Visibility: Banner stands with a custom step and repeat are ideal for high-visibility settings like conventions, fairs, and trade shows because of their size and ability to attract attention. They offer a noticeable setting for photos, which in turn raises awareness of the brand.
Cost-Effective: Unlike other types of marketing, step and repeat banners don't break the bank. Banners can be printed in bulk, making them more cost-effective per unit and making them suitable for repeated use.
Modifiable: Step-and-repeat banners may be altered to meet specific requirements for advertising campaigns. Incorporating your brand's colors and logo into the backdrop of your events has never been easier thanks to the wide variety of sizes, shapes, and styles available.
All-Purpose: Step and repeat banners are perfect for red carpet events, press conferences, weddings, and corporate functions. They're also great for setting the stage at product unveilings and trade shows.
Quick and Simple Setup: Step and repeat banners can be quickly erected and dismantled, making them a great choice for events that require minimal preparation time. They come with a stand or can be mounted to the wall, depending on your preferences.
Attractive Social Media: Appealing to social media users, step and repeat banners can help spread the word about your company on sites like Facebook, Twitter, and Instagram.
Stylish First Impression: Businesses and organizations that want to make a good first impression should consider using step and repeat banners because of the professional and polished impression they give off.
Long-Lasting: Spending money on a step and repeat banner now will pay dividends for years to come because they are made from materials that are both high quality and long lasting.
Make Your Standout: Step and repeat banners are a great way to get your brand in front of more people and increase your company's visibility. Including your company's name and logo on the banner will help make your events stand out and become instantly recognizable.
Adaptability and Economy: step and repeat banners can be used for more than one event. They are a worthwhile investment for companies of all sizes because of the variety of occasions for which they can be put to use.
Example of a Great Step and Repeat Design This Time with Some Glitz and Glamour
Envision a business networking event where a new product line is being introduced to potential customers. An eye-catching event step and repeat banner with the company logo and product images is displayed as guests enter the event space. The banner provides a great setting for photos and inspires people to talk about the event online.
Print Step and Repeat Banner bearing the company's logo are strategically placed inside the venue, heightening the branding experience and giving the event a unified appearance. Visitors to the event can help spread the word about the event and the sponsoring company by stopping to take photos in front of the banner as they mingle and network.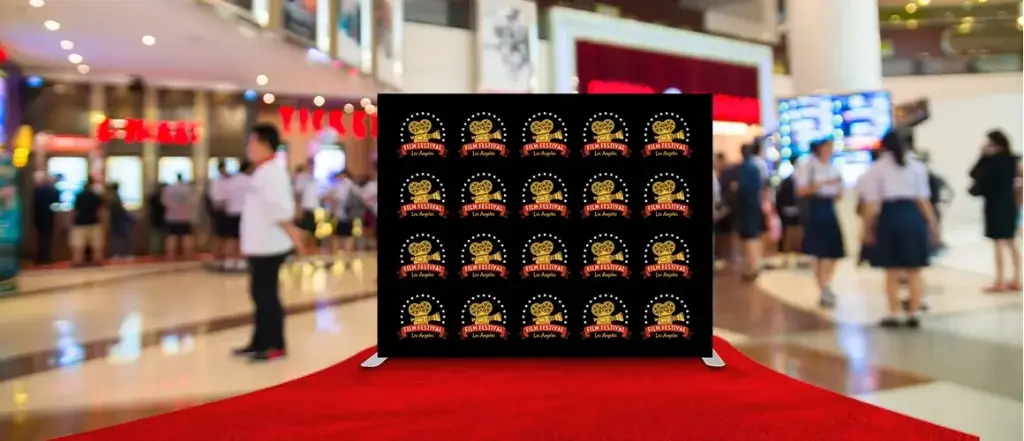 The personalized step and repeat banner are an efficient promotional tool because it draws in customers and leaves a lasting impression on them. By using the company's branding throughout the event, the company's name and products will be fresh in the minds of the attendees long after the event has ended.
Attendees and online followers alike show enthusiasm for the new products, making the event a worthwhile marketing investment. In addition to creating an immersive branding experience, the Step and Repeat Banner and custom table covers helped to generate buzz and drive brand awareness for the company.
Step Up Your Red-Carpet Event with Step & Repeat Banners
In conclusion, Custom Step & Repeat Banners are an effective method of branding that can elevate any event to the next level. Step and repeat banners are a great way to give your event a unified feel, whether it's a red carpet or a business mixer. A step and repeat banner offer a one-of-a-kind chance to promote your brand and get people talking because of the attention-grabbing graphics and logos it can display.
It's no secret that event step and repeat banners are a great way to get people interested in and talking about your brand. They make for great photo ops, giving eventgoers a striking visual to use as a backdrop for their Instagram and other social media posts. In addition to the banners, custom table covers can be used to continue the event's branding throughout.
There is no limit to what you can do with a step and repeat design, whether it's for a special event or as a promotional tool for your company. You can make your banner the focus of any event and a visual representation of your brand with a little imagination and some well-considered design choices. Because of this, why hold off? Get a custom step and repeat banner made today to raise the bar at your next event.