Businesses choose to advertise with banners, as they offer immense long-term value. Plus, they're cost-efficient, easy to make, memorable, durable, and reusable. In other words, the initial investment in banners makes up for the price by offering sustained results. However, to maximize these benefits, you need to design your banners with long-term use in mind. 
Keep reading to learn how you can easily design banners for long-term use:
Choose Vinyl (Here's Why)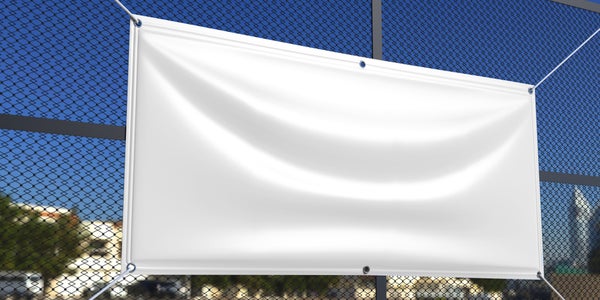 Naturally, the material is the first thing to consider when creating banners for long-term use. Typically, you can get your custom banners made in vinyl, mesh, polyester, canvas, and fabric. While each of these has its respective pros and cons, investing in vinyl could pay off in the long run – whether you are designing indoor or outdoor signs.
Vinyl banners give you the freedom to place banners indoors or outdoors thanks to their weather-resistant material. Apart from the flexibility of vinyl banner placement, these items are highly customizable by size, shape, graphics, display, and laminate. Given that vinyl banners can last you anywhere between 2 to 12 years, it should be the go-to material for making banners that last.
Design for Your Brand

Rather than focusing on a particular marketing campaign or seasonal sign, design your banner from a brand perspective. After all, campaigns and seasons will come and go, but it's your brand that will last forever. Here are some elements to include for your evergreen advertising campaigns: 
Add Business Logo & Brand Colors

Include Your Tagline

Consider Adding Mission Statements

Highlight Unique Products or Services

Share Great Customer Reviews

Include Logos, Mascots, and Unique Brand Graphics
Make sure from banners to direct mail flyers, every marketing item you produce is consistent and on-brand. That way, if you were to mix and match these items from different campaigns, they would still bring harmony to the overall look.
Of course, it also means that if your brand itself undergoes changes, then you will have to upgrade all these items to reflect them
Publish a Timeless Message

Rather than designing custom banners that declare a "40% Sale," opt for a banner design that advertises just a "Sale." After all, a sale is a recurring event, but wouldn't be labelled as 40% every time! To make this message even more timeless, you could have different percentages displayed as discounts on window decals in front of your banners to create timeless yet relevant promotional window displays.
Publishing timeless messages, be it an "End of Season Sale" or "We Wish You a Merry Christmas (and a Happy New Year)", allows you to reuse the same banner or marketing material time after time. So, the key to long-term banner messaging is this: focus on a broader objective of your campaign and draft a message that aligns with it rather than something more transient.
Incorporate Visual Elements

They say that a picture is worth a thousand words, especially in the case of banners and signs. When limited space dilutes the impact of a message, you can elevate it by incorporating visual elements. After all, it's a well-known fact that vibrant colors, fonts, and typography will stay dynamic. 
The incorporation of visual elements enhances your message and makes it easier for the human mind to process and retain what you're trying to convey. At the same time, you can up your chances of achieving these goals by using high contrast and highlighting key information with bold fonts or enlarging the font size of specific parts of your message. Moreover, you can order banner stands and custom table covers to support the message of your banners with a polished, well-rounded presentation. 
Care for Your Banners

Finally, it goes without saying that your banners will only last as long as you make them last. Here are a few tips to keep your custom banners in great condition for many years to come:
Never hang banners while putting them up to dry. 

Wet banners must be placed on a flat surface to dry and should only be stored after they are fully dry.

Do not roll up wet banners or signs.

Clean your banner with a solution of mild soap and water.

Avoid any cleaning agents or chemicals.
Following these simple design and maintenance steps will ensure your timeless message is properly preserved. Next time you need custom banners, opt for high-quality vinyl material to create the longest-lasting banners possible.