We've slashed prices … now 50 percent off!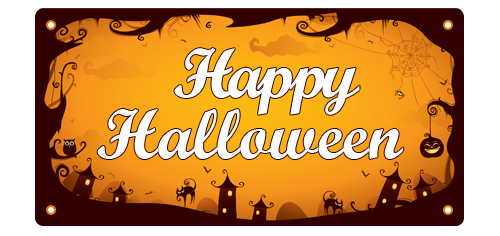 Halloween is supposed to be scary … in a fun sort of way. But watching the costs rack up as you buy the food and decorations for a Halloween party really can get scary when you are on a limited budget. That's where BannerBuzz can help.We offer high-quality vinyl banners without charging an arm and a leg. (Couldn't resist a little Halloween gore.)Order now and you can even get 50 percent off our already low prices.
Conjure up a customized banner  
We can help you create the spooky, funny, creative, colorful Halloween banner that will set the mood for your Halloween bash – whether it's a private house party, school dance, or you need a larger-than-life banner to crowds to a community haunted house.You can choose any number of colors or graphics for your banner at no extra cost. And you can request any size.
With our online design tool you can either select one of our standard banners or modify it for Halloween, or you can start from scratch and go Halloween crazy! If you need help, our staff designers are ready to assist you in bringing your idea to life. You will immediately see a rough image of your banner after you finish your design, but you can also request a finalized proof at no extra charge. Usually within 24 hours of getting your approval we will have your banner ready to ship.
Price and quality that will make you howl with delight  

Because we are one of the largest wholesale printers in the industry, we realize  economy of scale and are able to pass the savings on to our customers. Yet we will  never cut corners. With more than 20 years of high-quality printing experience, we  pride ourselves on our workmanship. And to back up those commitments, we offer  both a lowest price guarantee and a 100 percent quality guarantee.
So when you are planning your Halloween party, make sure you contact  BannerBuzz for your customized Halloween banner. Going anywhere else could be  a grave mistake.