A local university kicked off a banner campaign this year, highlighting the success of current and past students like Amber Carr.
Colleges and universities across the United States are constantly thinking of ways to entice young adults to consider their institution. Whether it is through the use of apparel, billboards of vinyl banners, the message is clear: Our school is the best fit for you. At Missouri State University (MSU), there are custom banners across campus highlighting the success stories of its recent graduates and Amber Carr was one of them.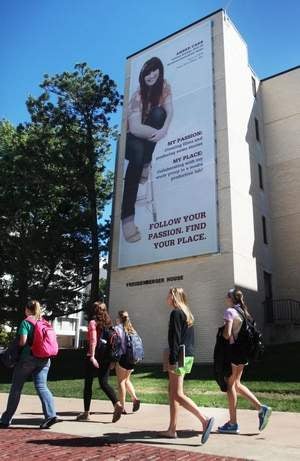 Carr is a recent graduate who completed her studies in broadcast journalism. She was shocked to hear that she was featured on a poster measuring 16 feet by 37 feet—featuring MSU's marketing tagline, "Follow your passion. Find your place," the Springfield News Leader explained.
"My first thought was just that it was extremely humbling," Carr told the source. "I just thought it would be half the size."
In the past, colleges have found success attracting high school seniors and transfer students to their institutions by sharing the success stories of current and past students. Carr, among many others, was chosen to be a part of the banner pilot program because of her "awards, successes and demographics," MSU's chief of staff Paul Kincaid explained.
When MSU ordered a banner this size, it was clear that it wanted to increase its brand in a visible area, choosing the side of the Freudenberg House along Kings Avenue as a prime location. MSU was inspired to implement the banner project after museums in Washington D.C. and Chicago saw success doing so. Other locations of these banners include the Plaster Sports Complex and Cheek Hall.
Businesses that want to increase brand awareness need to consider placing custom vinyl banners in areas where their target audience hangs out. A large banner can be beneficial, but location makes the ultimate difference because it has the potential to catch the attention of those who were not initially interested.