Staples' "Make More Happen" marketing campaign is expected to show customers and businesses that the office supply retailer can do more than many might think.
About 10 years ago, office supplies retailer Staples launched its "that was easy" marketing campaign, which stemmed from the fact that anything could be done at Staples. While this specific campaign worked well, the rise of Amazon and paperless businesses is forcing the company to go in another marketing direction, according to Retailing Today.
"Staples makes it easy to make more happen by providing all the stuff businesses need to get stuff done," Steve Fund, Staples SVP of global marketing, told the source. "Our new campaign shows that if you have an idea, Staples has all the products you need to bring it to life."
Instead of seeing "that was easy" on vinyl banners across its 2,200 locations in 25 countries, spectators will read "make more happen," with the L in the organization's names changed to L-shaped objects — expressing the store's wide variety of inventory.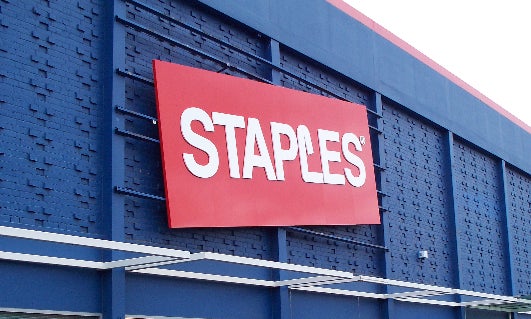 Efforts to change the retailer's image began in 2013, when revenue for the third quarter reached $6.1 billion, dropping off 3.8 percent, the New York Times reported. In response, Staples diversified its product offerings. Doctors can now purchase stethoscopes or local designers can pick up mannequins for their showrooms. Inventory has grown from 70,000 products to 300,000.
"We really embarked on this reinvention over a year ago and have been very aggressively and quietly adding the products our business customers want and need," Shira Goodman, Staples executive vice president for global growth, told the Times.
At first glance, Staples' latest campaign sounds like a simple idea, but it actually required a lot of brainstorming. When the business started out 28 years ago, Goodman added that they considered naming the organization "8 1/2 by 11," which would have forced them to have a much more limited brand. By going with "Staples," an item known for connecting sheets of paper with one another, they can take that idea and get creative with it.
As Retailing Today contributor explained, "[t]he campaign moves beyond the solution-oriented, problem-solving approach," which now involves an Omani-channel supply chain and use of multiple advertising mediums. Every week between January and February, Staples will release a new custom banner that slightly changes the L into another object — hoping business owners and customers take the bait.
"Once the revenue generated from these new areas reaches a critical mass, Staples will return to growth," financial analyst Timothy Green wrote in a Motley Fool article on Staples recently. "This is exactly the kind of shift that Staples needed."