World Environment Day will take place on Saturday, June 5th. Organized by the United Nations Environment Programme, this annual celebration was created to increase awareness of environmental issues and inspire action to restore the planet. Over one hundred countries across the globe observe this day of climate activism. There are plenty of cost-effective ways and sustainability strategies your business can implement to join the cause and celebrate this year's World Environment Day. 
Trash: An Issue in Volume
Climate change poses an existential threat to companies and communities alike. Since 1974, World Environment Day has encouraged governments, businesses, and individuals to get involved with green initiatives to combat this environmental crisis. Every year, a staggering 2.12 billion tons of waste is disposed of in the Earth's oceans and landfills. The fact that 99% of items wind up in landfills within six months of purchase is seriously contributing to these waste woes. 
Listen to the Lorax
Deforestation produces a devastating environmental impact too. According to the United Nations, every three seconds the Earth loses enough trees to cover an entire soccer field. Though no one person can reverse all of this environmental damage, there are steps your business can take to reduce its carbon footprint. Many of these green initiatives can increase efficiency, reduce operating costs, and increase responsible consumer spending habits. 
Lead By Example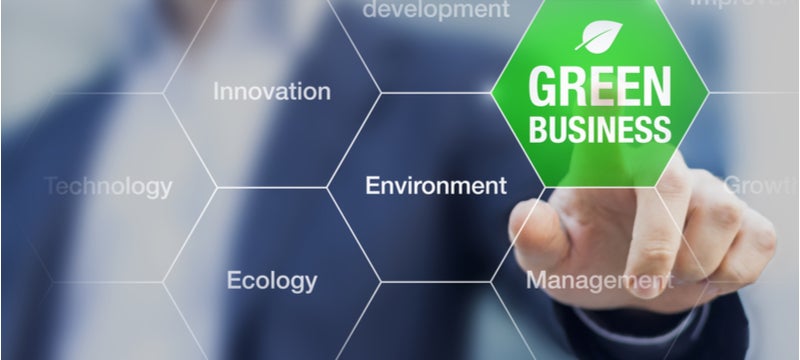 As a business owner, you are a thought leader in your community. Positioning your business as a leader in local sustainability will resonate with consumers and give your company a competitive edge. According to a recent survey published by IBM, eight out of ten respondents indicated that sustainability considerations shape their purchasing decisions and 70% of those respondents would be willing to pay a 35% premium for environmentally responsible brands. 
Going green is great for the environment and it can have positive impacts on your business' profitability too. As you create your sustainability strategy, it is vital that your messaging measures up to your actions. Find ways to position your brand as an environmentally-responsible buying option and present clear and transparent examples of the ways in which your business makes the world a better place. 
Your company can work with environmental groups in your community and sponsor events aimed at planting trees or picking up litter from streams or roadside green spaces. Search for local chapters of the Adopt-A-Stream or Adopt-A-Highway programs for inspiration about how to get involved. 
Fresh Ways to Reduce Your Carbon Footprint

Reducing your carbon footprint is key for sustainable business operations. Conserving your energy consumption will increase efficiency and lower operating costs. Start small with simple changes like conducting an energy audit. This report shows your current energy consumption pain points and offers solutions to reduce costs. 
Opt for energy-efficient lightbulbs and encourage key holders to turn off lights and thermostats upon closing for the evening. Most thermostats have options for programming these temperature changes so you can generate sustainable savings automatically. 
Moreover, making the switch to sustainable packaging could increase your sales. Over half of all U.S. customers are highly concerned about the impacts of packaging on the environment. Choose paper over plastic whenever possible and look for biodegradable packaging options. This change shows customers that your company is aware of its environmental impact and is taking steps to reduce, reuse, and recycle. 
Sustainable Signage

Your company's messaging can make a difference. According to the Environmental Protection Agency, placing signage prompts near recycling bins increased recycling by 54%. It is clear that physical advertising strategies can encourage consumers to participate in sustainability initiatives. 
Encourage consumers and employees to recycle products by placing recycling bins with signs in common areas. Offer customers sustainable shopping options and place banners on shelves or above aisles where they can find green product choices. 
Your signage can be part of the sustainability solution too. Eco-friendly banners are PVC free but extremely resilient, so they are perfect for both indoor and outdoor use. Search for upcoming sales on eco-friendly banners so you can save some money while going green. Sustainable signage is versatile, cost-effective, and customizable, so rest assured, you can get your message out to your customers without breaking the bank. 
Encourage Community Involvement

Getting your customers involved in your green initiatives is one way to generate unique consumer touchpoints for a great cause. There are several ways to spark sustainability initiatives within your community. For example, you could offer discounts to customers who shop with reusable bags on World Environment Day or give away branded promotional items to shoppers who make a donation to a local environmental group.
Go the Extra Mile
Your commitment to customer satisfaction and sustainability does not have to end at check out. Unilever estimates that almost 70% of its carbon footprint depends on which products customers purchase and whether they use and dispose of items in a sustainable manner. Give your customers the information they need to go green by offering tutorials for how to use and recycle products responsibly. 
Get Social
Social media is a great tool to communicate these important messages to your audience. Encourage existing customers to join in the narrative with social media giveaways and discounts. This tactic is proven to drive sustainable consumer behavior and increase sales. One study found that telling online shoppers that people were buying eco-friendly products led to a 65% increase in new customers making sustainable purchases. 
When customers purchase a local, green-friendly product or service, prompt them to take a selfie with the item, tag your business, and use a hashtag like #goinggreen or #worldenvironmentday in their posts. Use in-store, eco-friendly banners to remind customers about your social media promotions and print the call to action and discount associated with the giveaway on each sign. 
On Saturday, June 5th, your business can get involved in making the world a greener place. World Environment Day is the perfect opportunity to focus your efforts on sustainable initiatives. Get your customers involved in your efforts to protect the planet and you will likely see an increase in profits and a positive impact on your community.