Last year, no segment of the economy was left unaffected by the global health crisis as small and large businesses were upended by shutdowns necessary to stop the spread of the virus. Pre-Covid consumer behavior and retail projections for 2020 and 2021 were obliterated as companies were forced to triage their retail strategy and adapt to dramatic changes in shopping behaviors as well as new safety concerns. One year into the new normal, people feel more optimistic about the future and are beginning to venture outside again. As you anticipate higher foot traffic this spring and summer, these data-driven strategies will safely prepare your business for a busier season.
Why Retail Remains A Contender
The shutdown had many people spending more time in front of their screens. As safety concerns about retail shopping grew, there was an uptick in online orders. According to a survey conducted by Contentsquare, however, only 15% of respondents were satisfied with their online shopping experience. Customer Think reported similar findings, stating that 46% of consumers prefer brick and mortar over online shopping. This year, consumers are predicted to get out of the house and seek a safe escape from the stress and overwhelm the pandemic has created. That means safety is key for your business' success at drawing shoppers back in larger numbers.
Revive the Retail Experience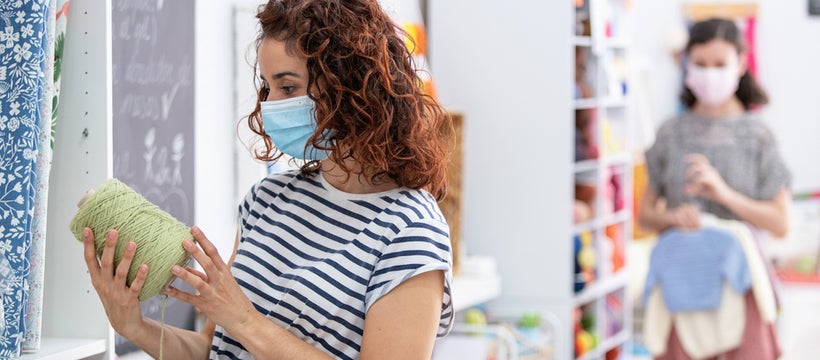 An increase in vaccine distribution and dropping case counts has promoted a surge in consumer confidence. In fact, the National Retail Federation predicts an increase in consumer spending between 6.5%-8.2% as a result. Capitalize on this increase in consumer confidence by repurposing your retail space.
Offer safe options for your customers to shop at your brick and mortar location. Consider joining the 90% of retailers that plan to implement a buy online, pick up in store – aka BOPIS – strategy in 2021. BOPIS promotes customer satisfaction and in-store safety making it a win-win for both customers and business owners. Given that COVID-19 has created a 35% growth in online orders for essential items, BOPIS is a fantastic option because it fosters a sense of security for your customers while ensuring a convenient retail experience.
Buying online and picking up in store is an ideal option for your customers who may not be ready to fully return to in store shopping. Most consumer behavior analysts predict an increase in brick and mortar shopping, so BOPIS gives customers a safe and efficient alternative to in-store shopping and helps you regulate in-store foot traffic. 75% of consumers report trying a new shopping behavior this year. Capitalize on changing consumer behaviors and increase awareness of new shopping options your customers can explore with storefront banners that promote your BOPIS strategy.
How to Repurpose Your Retail Space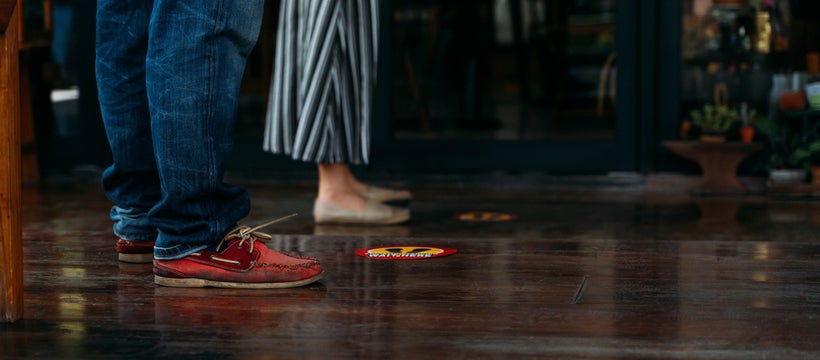 Though in-store shopping for retail and food service is up 5.3% from December 2020 and up 7.4% from this time last year, 73% consumers are still hesitant to return to physical retail and dine-in spaces. However, you can boost your customer's confidence by implementing and advertising safety precautions at your establishment.
Create a concierge-style retail experience for your patrons. In addition to a BOPIS strategy, you can repurpose the inside of your store to promote safe shopping and monitor in-store interactions. Advertise by-appointment boutique experiences which allow you to clean the store space between clients or move tables, shelves, and displays to widen aisles or dining room space.
Add social distancing decals to high foot traffic areas like check out lines, waiting rooms, and retail floors to safely direct foot traffic. Ensure consumer satisfaction and ease confusion by using signs to communicate changes in product location to consumers. Well-placed indoor signage let's customers easily navigate your new floor plan and find the items they need.
Consumer Experience and Cleanliness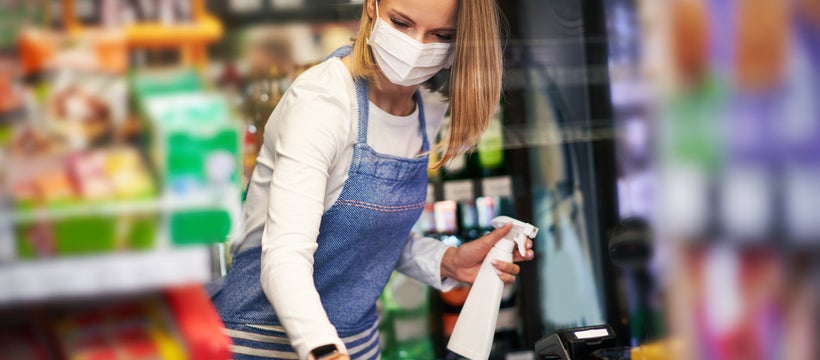 Consumers may want to return to in-person activities like shopping and dining, but only if they can do so safely. Given that 40% of consumers said they shopped at retail stores less frequently last year, it is no surprise that 78% of top retail executives plan to make health and safety initiatives a primary fiscal focus for their operations.
Safety should remain a top priority for your business this year too. Communicating hygiene best practices is crucial for putting your customers' minds at ease when they visit your store. In addition to social distancing decals, sneeze guards and hand sanitizer dispensers should be present in your retail space.
Place a hand sanitizer dispenser at your entrance with a message that politely prompts customers to wear their mask, respect social distancing, and sanitize their hands before touching merchandise. Placing this visual of safety assurance at the beginning of the customer experience is a great way to set the tone for in-store expectations for customers and employees alike.
Sneeze guards should be placed between restaurant tables, at bars, and in front of registers to create a protective barrier between different dine-in parties, staff, and restaurant patrons.
These strategies will help your business safely prepare for a busier season. Small investments and cost-effective changes will have a positive impact on your business' profitability. Cultivate new business when you advertise your business' safety strategy and you will be able to keep your doors open and safely regulate your business operations while protecting your profitability.
References
State of Digital Happiness: Only 15% of Consumers Are Happy Shopping Online
Businesswire
https://www.businesswire.com/news/home/20201214005389/en
3 Consumer Behavior Trends to Watch in 2021
Customer Think
https://customerthink.com/3-consumer-behavior-trends-to-watch-in-2021/ __cf_chl_jschl_tk__=78b488f862fbcd8e9249dbbb6a04d158d0ea6e8e-1615224054-0-AbvT3J6oCXtiGtgvyBKFaJFSAkwtkMhgbGwv3wGB1WYo7w_iPu7Npf5KdEx3GBFzniFWnW65pwBnePxqQEo7vWSnSs5j9JhC4GwGg-BRoCJ74ZD_KDrQwFX32_uRPhCgzTCYGCkRGnxIHYFmEp-oe72_XBuWaPDFNCZlkpTDHF3-dj7slPvg-kehtpOBURzArC2kUbALBd7KTViBwy6RXphQns6VTtWKyvJhGfFW5SusrZ_knesuG7TSNyGhVLmcWYFu3tvqEHS2W9Et9inXi_doD8PT5kMkRVzbLlvOC5hotecN47MkvgjTstCOC_9dODDAEpsWNwVCq4rJELGHB6aYll_8gN3C5KgkmhWOPojJzgI727iQPMbuxMTMm6aILw
The great consumer shift: Ten charts that show how US shopping behavior is changing
McKinsey & Company
https://www.mckinsey.com/business-functions/marketing-and-sales/our-insights/the-great-consumer-shift-ten-charts-that-show-how-us-shopping-behavior-is-changing
COVID Data Tracker
CDC
https://covid.cdc.gov/covid-data-tracker/#datatracker-home
Advance Monthly Sales For Retail And Food Services, January 2021
Census Bureau
https://www.census.gov/retail/marts/www/marts_current.pdf
Americans, particularly the vaccinated, are hopeful about the end of the pandemic
Ipsos
https://www.ipsos.com/en-us/news-polls/axios-ipsos-coronavirus-index
2021 retail industry outlook
Deloitte
https://www2.deloitte.com/content/dam/Deloitte/us/Documents/consumer-business/us-2021-retail-industry-outlook.pdf