Mother's Day is a special occasion to honor and appreciate the incredible women in our lives. As a retailer, you have the opportunity to create a remarkable experience for your customers by hosting a Mother's Day event. One effective way to add a personalized touch to your event is through custom-designed printable banners and signages. In this creative guide, we'll explore ideas and strategies to help you plan a successful event that celebrates mothers while showcasing your brand's uniqueness.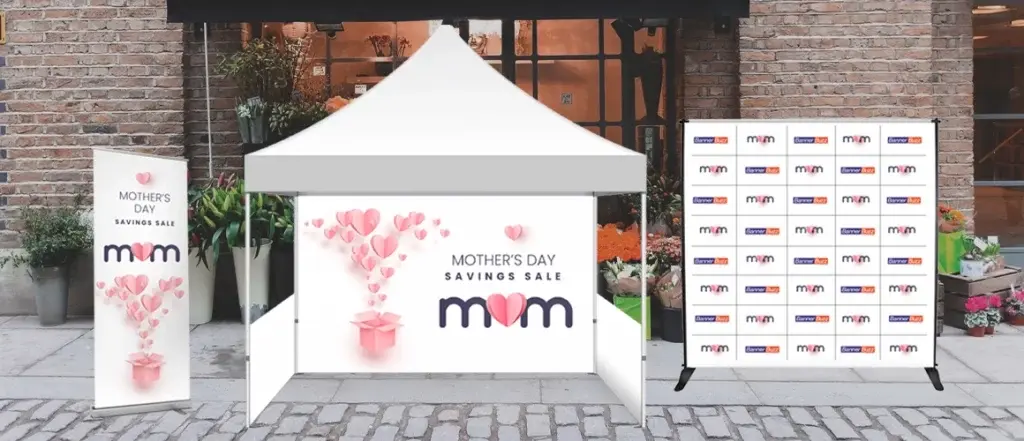 Make Mother's Day Event More Enjoyable and Easier for Your Customers
Engage Customers with Customized Banners and Signages
Hosting an event with Happy Mother's Day printable banners and signages can create a truly memorable experience for your customers. By infusing your brand's identity with the essence of the occasion, you can engage customers on an emotional level while showcasing your products and services. Remember, the key is to celebrate the incredible women in our lives and make them feel appreciated. So, let your creativity flourish, and embrace the opportunity to create a unique and unforgettable Mother's Day banner.
Setting the Stage: To begin, set the stage for your Mother's Day event by transforming your retail space into a warm and inviting atmosphere. Use large printable banners featuring heartwarming messages and vibrant floral designs that symbolize love and appreciation. Place them strategically around the store to create focal points and capture the attention of customers.
Customized Signages: Personalized signages add a delightful touch to your Mother's Day event. Design and print signage templates that incorporate your brand identity and Mother's Day-themed elements. Consider creating signs to guide customers through the event, showcase special offers, or highlight specific product displays. Engage your creativity by incorporating quotes about motherhood or famous sayings that resonate with the occasion.
Interactive Stations
Mother's Day events can be enhanced with interactive stations that allow customers to engage and have fun. Create stations for children to make personalized Mother's Day cards or small crafts. Design eye-catching Mother's Day sale banners or signs to attract attention to these stations, inviting families to participate and create memorable moments together.
Photobooth Delights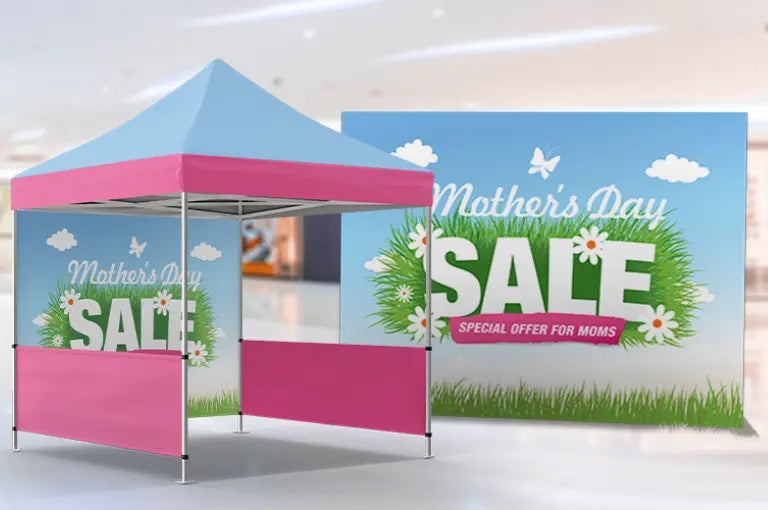 A photobooth is a popular feature at events, allowing customers to capture precious moments. Design a custom printable backdrop for the photobooth, featuring a delightful Mother's Day theme or your brand's logo. Encourage customers to share their photos on social media using event-specific hashtags, extending the reach of your event beyond the store walls.
Exclusive Offers and Gift Wrapping
Mother's Day events often coincide with special promotions and discounts. Create printable event banners to showcase these exclusive offers, drawing attention to the value customers can enjoy. Additionally, design custom signage for your gift-wrapping station, featuring elegant designs and heartfelt messages that reflect the occasion's spirit. This will add a personal touch and convenience for customers who purchase gifts at your store.
Mother's Day Contest
Engage your customers further by organizing a Mother's Day contest or giveaway. Design printable banners and signage to promote the contest and its rules. Consider incorporating inspiring quotes about motherhood to evoke emotions and encourage participation. Highlight the prizes and create a sense of excitement and anticipation to attract customers to your event.
Create Mother's Day-themed Window Displays
Create eye-catching Mother's Day-themed window displays to draw in customers. Use bright colors and themes that celebrate mothers and show off your products.
Product Personalization
Personalization is a great way to add an extra-special touch to any gift. Offer product personalization on select items, including clothing, coffee mugs, hats, jewelry and photo frames. Customers can add their mom's name, initials, or a special message to create a one-of-a-kind gift that she'll love.
Create a page dedicated to Mother's Day shopping
It is important to offer the best shopping experience possible for our customers, which is why it is recommended to put together a range of special offers and features to help your customer find the perfect gift for their mom or any women, no matter what the budget or preferences may be. Advertise them to check out your dedicated Mother's Day shopping page for inspiration and ideas to make this Mother's Day unforgettable for your mom.
Create Mother's Day gift bundles
One of the best ways to make shopping for Mother's Day easier is by putting together a gift guide on your website or social media pages to help customers find the perfect gift for their moms. Curate a selection of top-rated and trending products, including jewelry, beauty items, home decor, and accessories, to make it easier for customers to find the perfect gift for their mom. Whether they're looking for something practical, sentimental, or luxurious, the gift guide should have something for everyone. You can even create themed bundles, such as a spa day, cooking, fitness or a gardening bundle.
Partner with other local businesses
Partner with other local businesses to offer special Mother's Day packages. For example, you could partner with a local florist to offer a flower and gift bundle or a local restaurant to offer a special Mother's Day meal.
Host a Mother's Day giveaway – Be Visible on Social Media
To get customers excited about Mother's Day, run a giveaway on social media. Customers can share a photo tagging your brand name and tell why their mom is the best for a chance to win a special gift. This could be a simple giveaway of one of your products or a larger giveaway with prizes from other local businesses. It's a fun way to engage with customers and show our appreciation for moms everywhere.
Pinterest Board
Pinterest is a great resource for finding inspiration and ideas, so create a dedicated Mother's Day board to help customers find the perfect gift and celebrate their mom in style. From DIY projects and decorating tips to gift ideas and recipes, the Pinterest board can have everything customers need to make this Mother's Day unforgettable.
In conclusion, Mother's Day is an excellent opportunity to show your appreciation for mothers while also boosting your sales. By implementing these ideas, you can create a memorable shopping experience for your customers and celebrate the most important women in your lives. With your customized banners and signages, gift guide, product personalization, Pinterest board, giveaway, and special deals, you are making it easy for customers to find the perfect gift for their mom and celebrate her in style. Happy Mother's Day!