The digital age presents many obstacles for modern small business marketing. It takes an average of eight touchpoints to make an impression on potential customers and, with so many digital and physical advertising channels to choose from, you may wonder which options are right for you. A focused, effective strategy is actually easy to achieve! There are many ways a focused marketing effort can bring your business higher returns; the key is planning ahead.
The Importance of Omnichannel Touchpoints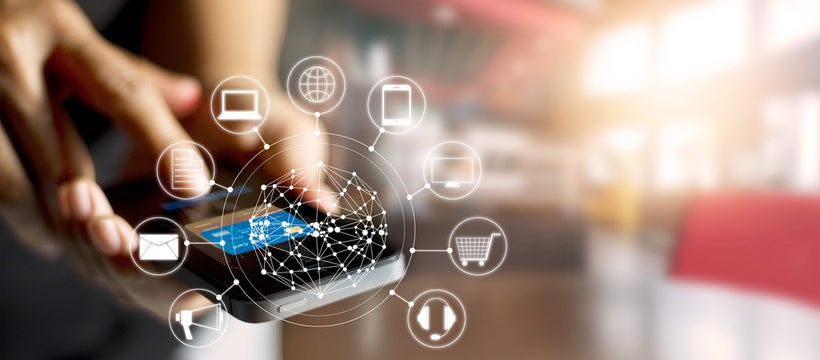 From the sales floor to social media, there are many options for customers to engage with your company. If you want your business to be successful, you need an omnichannel marketing strategy to increase your brand visibility and make lasting impressions that convert to sales. 
Omnichannel marketing refers to a seamless and integrated customer experience across all brick and mortar, digital, and social media spaces. The advent of the internet and smartphones has catalyzed the need for this marketing expansion. Consumers are bombarded with ads, social media posts, email blasts, and commercials on a daily basis. It's therefore no surprise that a strong omnichannel strategy leads to an average customer retention rate of 89% compared to the 33% rate for customers that neglect this type of strategy. 
Omnichannel Leads to Growth
Omnichannel marketing isn't just great at retaining customers, it's vital to grow your business too! According to Aspect Software, businesses that adopt omni-channel strategies achieve 91% greater year-over-year customer retention rates compared to businesses that don't. If you feel like you've hit a brick wall from focusing your efforts on one type of advertising, don't fret. There are quick, simple, and cost-effective fixes to get your brand strategy back on track.
Designing A Dynamic Brand Strategy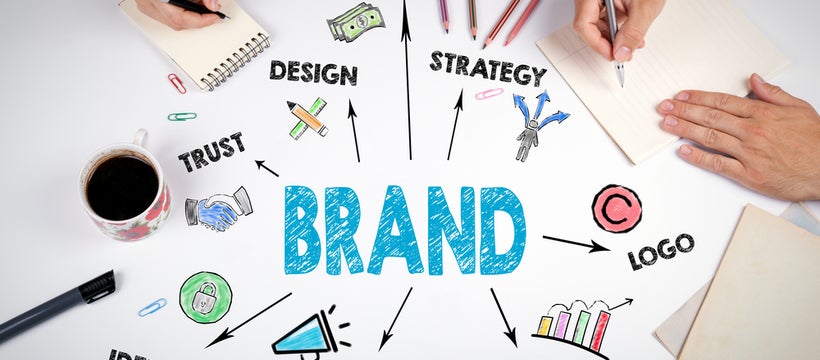 Customers have many more avenues to interact with brands today than ever before. In fact, fifteen years ago, the average consumer needed only two touch points when buying an item. Today, it typically takes six additional, different engagements to complete a sale. While having this access to your customers is awesome it also presents marketing challenges. Namely, your business has to find ways to cut through the competitive static and really grab shopper's attention. Securing those highly-coveted customer touchpoints depends upon your brand awareness and visibility. If you want a successful marketing strategy, you've got to have an effective brand identity. 
Craft Your Image Carefully
Develop a clear brand with a consistent color palette, font choices, and brand voice across all of your sales platforms. Find ways to deliver your unique, in-store experience across your digital, social, and event spaces too. If your brand uses witty, welcoming language or offers customers a unique atmosphere, think of ways you can include these elements across all of your platforms. 
The Moe's restaurant chain does a fantastic job of maintaining a strong, omnichannel brand voice. Their famous slogan "Welcome to Moe's" is displayed on their website homepage, printed on their napkins and signage, and played as a sound bite on commercials. This attention to detail creates cohesion and credibility for the brand.
The chain's gold, red, and green color palette is the same across their ordering app, interior design, signage, and social media platforms too. As this example illustrates, consistency is key because it creates unique and memorable touchpoints your customers will recall.
Working with a graphic designer will ensure the highest quality customer experience across all of your platforms. Designers know how to present your brand in the most visually appealing ways, they can ensure your banners and brochures are properly formatted for print, and design logos that are properly vectorized for your website and social media accounts.
Optimizing Your Online Presence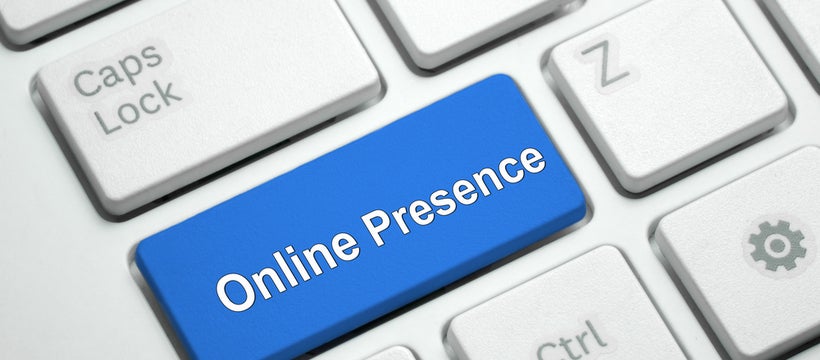 Customer experience is more important than price to 64% of customers, so creating a positive online shopping experience for your customers is a marketing move you can't afford to neglect. Afterall, omnichannel customers spend 4% more in-store and 10% more online than single-channel customers. 
A strong social media strategy and online presence can generate big returns for your growing business. A well-branded website that accurately reflects your logo, core values, and product availability provides your customers with the same enjoyable experience they receive in your retail store from the comfort of their own homes. 
A staggering 94% of customers research stores and products online before making in-store purchases and 80% of customers stated they are less inclined to visit a physical store if inventory availability is not listed online. Use your company's website and social media platforms to promote new product launches, restocks, and upcoming events. Not only will this strategy boost online sales, it will drive in-store foot traffic too. 
Set Your Storefront Up For Success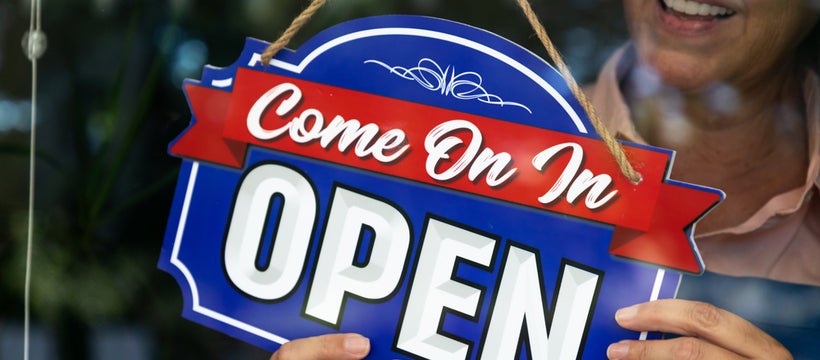 Presenting a consistent brand across all platforms can drive your revenue up 23%. Your logo, color palette, messaging, and customer experience need to be cohesive for you to convert more sales. From your website to your window display, your branding needs to be seamless. 
Signage is a low-cost, high-impact investment your omnichannel marketing strategy needs. On average, storefront signs are seen 50-60 times a month by those living within five miles of your store. Close proximity customers could account for up to 85% of your new, in-store business.
Whether you are directing online shoppers to your brick and mortar location or trying to make those local touchpoints, banners, flags, and posters are all necessary parts of a comprehensive marketing plan. These options are portable so they're great for on-the-go marketing at outdoors events and markets too. 
Marketing Made Simple
Boosting brand awareness and increasing revenue doesn't have to be incredibly time-consuming or outrageously expensive. Create a consistent brand identity and customer experience then maintain these elements across all platforms. Think about what sets your company apart from competitors. Perhaps your employees treat every customer like family or your core values promote sustainability. Focus your efforts on showcasing what makes your business unique and you'll see just how easy it is for your marketing efforts to yield higher returns!
References
How Many Touches Does It Take to Make a Sale?
Rain Group
https://www.rainsalestraining.com/blog/how-many-touches-does-it-take-to-make-a-sale#:~:text=The%20simple%20answer%20is%3A%20more,conversion)%20with%20a%20new%20prospect.
The State of Omnichannel Shopping – Statistics and Trends
Invesp
https://www.invespcro.com/blog/state-of-omnichannel-shopping/
Survey: Businesses that Use Omni-channel Strategies Have Far Better Customer Retention Rates
Loyalty 360
https://loyalty360.org/content-gallery/daily-news/survey-businesses-that-use-omni-channel-strategies-have-far-better-customer
Omnichannel Stats You Don't Want To Miss
Knexus
https://www.knexusgroup.com/show/blog/Five-Omnichannel-Statistics-You-Need-to-Know/
Gartner Survey Finds Importance of Customer Experience on the Rise — Marketing Is on the Hook
Gartner Research
https://www.gartner.com/en/documents/2857722
A Study of 46,000 Shoppers Shows That Omnichannel Retailing Works
Harvard Business Review
https://hbr.org/2017/01/a-study-of-46000-shoppers-shows-that-omnichannel-retailing-works
Consumer Trends: Connecting In-Store and Online Experiences
V12
https://v12data.com/blog/consumer-trends-connecting-in-store-and-online-experiences/#:~:text=According%20to%20the%20research%3A,not%20provide%20current%20product%20availability.
Presenting a brand consistently across all platforms can increase revenue by up to 23%
50+ Eye-Opening Branding Statistics – 2021 Edition
Smallbizgenius
https://www.smallbizgenius.net/by-the-numbers/branding-statistics/#gref
What's Your Signage?: How On-Premise Signs Help Small Businesses Tap Into a Hidden Profit Center
The NewYork State Small Business Development Center 
http://images.ebsco.com/pob/outdoorsignsamerica/cms/TheImportanceandEffectivenessofSignage.pdf