Vinyl graphics are the best form of advertising as they are portable and attractive. They can be easily applied on cars, walls, in front of your house or on your mail box. They can be effectively used for some project which demands banners and also for hoardings. However, the application is as important as the attractive colors and captions used in the graphic. It should be applied in a way that it looks professional. There should be no wrinkles and the surface should look smooth and clear. There are two layers around the vinyl graphic. There is a masking layer on top of the vinyl graphic which protects it from external factors and another layer on the back to protect the adhesive used for sticking the graphic.
The first step is to make sure that the surface on which you have to stick the vinyl graphic is clean. Make sure there is no dust or debris on the surface. You can clean the surface with a cloth, and dust and wipe it clean. Use water and soap to clean it. This is important, as if you forget to clean the surface before starting your application the debris might look like bubbles on the graphic and can even make a hole in it. Your surface can be anything. Here in below image, there is a vinyl sticker on glass. We have awesome tool to custom your vinyl stickers.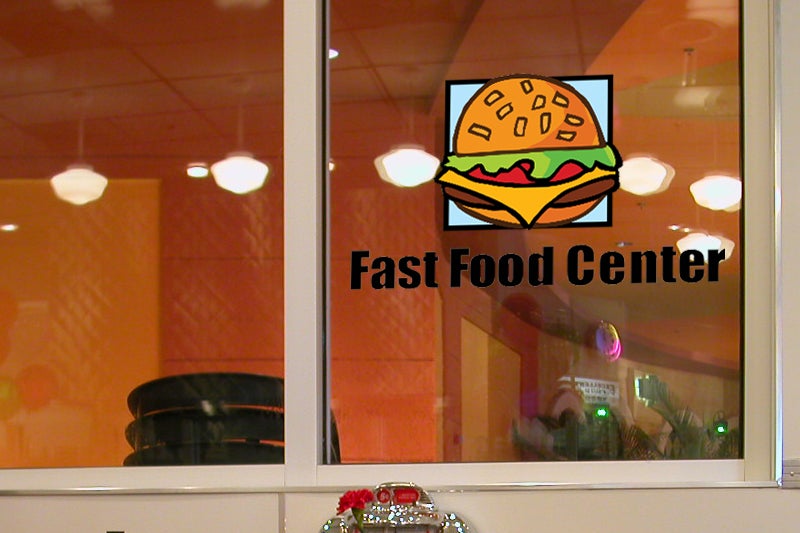 Now put small pieces of masking tape on the graphic and position it on the surface as you want. You can take someone's help to get it on the proper position. Use water and soap while you are adjusting the position of your graphic. The water keeps the adhesive to keep from sticking the graphic permanently in case you want to adjust it again. Now remove the paper layer on the graphic and without letting your fingers touch it apply it on the surface while spraying the liquid soap.
Once the graphic is flat on to the surface you can use a squeegee to force the water out from under the sticker. Apply even pressure from center to sides.Once the water is out from under your graphic, remove the masking paper.
These steps will ensure your vinyl graphic is bubble free and smooth.