Need to get your business cards prepared for an imminent launch or want  Signage & Displays for promotional campaign? When it comes to marketing supplies and Signage, most people would likely go for one of the first few companies that appear on Google's search results. That is because you will more likely find what you're looking for, in the first page itself.
Two of those companies are BannerBuzz and VistaPrint. While VistaPrint is regarded as one of the most reliable design and supply firm for SMEs, BannerBuzz is gradually becoming one of the heavy weights in the industry. While the primary focus of VistaPrint is business cards, flyers, and brochures, they also like to experiment in graphic banners and supplies that help their customers achieve their marketing and operational goals. Here are a few technical comparisons between VistaPrint and BannerBuzz to help you realize what the best option for you is!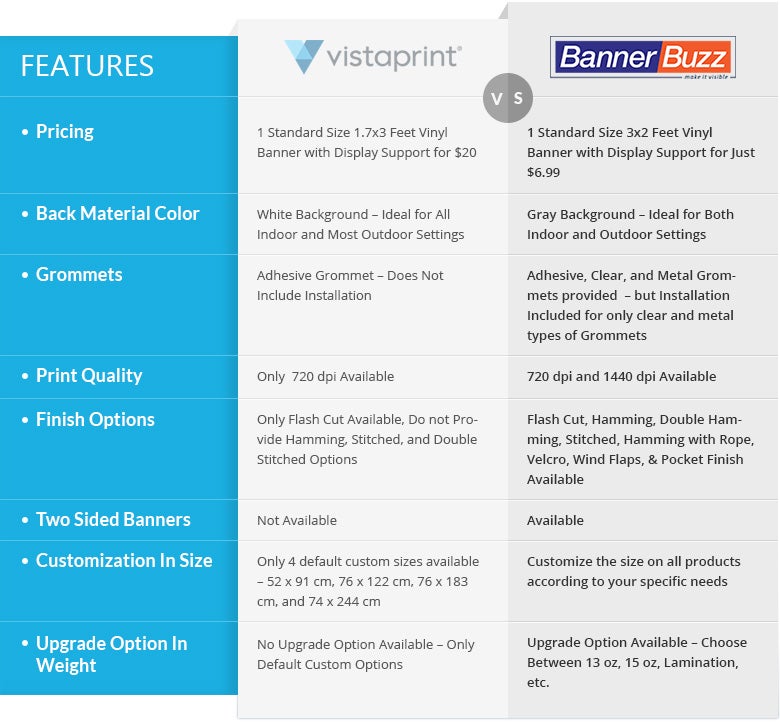 Other Technical Comparisons
While both VistaPrint and BannerBuzz operate in the  different market  they offer   many similar products, Banner Buzz has certainly increased its  products in past few months. As of today, BannerBuzz is one of the fastest growing firms in its banner & displays industry due to its comprehensive range of solutions and consumer resource that improves client retention. Here are some other technical comparisons between the two companies and the solutions they offer.
Product Range
When it comes to 'levels of customizations', BannerBuzz is true to its name by providing the best customization options that give you total freedom on how your banners and graphics will look and feel. In fact, BannerBuzz has immersive product depth, and offers standard and customized products like vinyl lettering and graphics, banner stands and displays, signs, table throws and covers, posters and decals, flags, sticker signage, magnetic signage, wall products and signage, and even accessories that make it easier for you to carry and maintain the quality of the products. On the other hand, VistaPrint is only limited to providing banners, wall posters, decals, and business cards in default sizes.
Marketing Material
As BannerBuzz is still relatively a new business compared to VistaPrint, the marketing materials are still undergoing various changes. Their range is updated on a frequent basis to make sure that customers are able to get the best marketing materials that are exactly built to their needs. Despite that, BannerBuzz seeks to introduce the most expansive range of marketing materials online, as it is effectively targeting businesses and customers in the US, UK, Australia, and Canada among other regions. On the other hand, VistaPrint has its marketing material ready but most of the materials are only available in default sizes. In other words, the marketing material provided by Vista Print is not as practical as the products that BannerBuzz is Providing.
Region
VistaPrint is an American owned and operated business that is currently offering solutions to most parts of the world. That being said, most consumers are bound to pay for astronomical shipping rates and charges if they choose the express delivery to get their consignment delivered before the launch of their marketing campaigns. This is where VistaPrint lacks as despite being an internationally recognized brand, it only operates from the United States.
BannerBuzz, on the other hand, is one of the fastest growing  Signage , Banners & Displays providers in the world. BannerBuzz currently has respective websites BannerBuzz US, BannnerBuzz Canada, BannerBuzz AUS and BannerBuzz UK to cater to the US, UK, Australia, and Canadian markets and allows quick and easy shipment methods for clients in the local markets. This has helped BannerBuzz become one of the key players in the industry and allows it to serve a wide demographic market that continues to grow as the reputation of the business grows.
Conclusion
Since 2001, VistaPrint has been helping SMEs to corporations get their marketing materials ready for promotional and recognition campaigns. VistaPrint has been the pioneer in the industry and its reputation today stands among one of the best in the industry. However, while there are various firms that offer more marketing materials and flexibility than VistaPrint, they fail to provide the community experience and resource that the company leverages on.
Since 2009, BannerBuzz has become the ultimate source for completely customizable Signage , Banner & Displays . As of today, it stands as one of the most recognized and resourceful marketing material providers in the world. BannerBuzz leverages on its marketing resource, consultation, and guidance that has helped its many customers find their feet on the internet and off it. If VistaPrint helps your business become visible, BannerBuzz makes sure it is remembered by your target audience for a long time.
 To find out more about VistaPrint, its products and shipment policy; please visit VistaPrint.com.
To find out more about BannerBuzz, its products and shipment policy; please visit BannerBuzz.com.