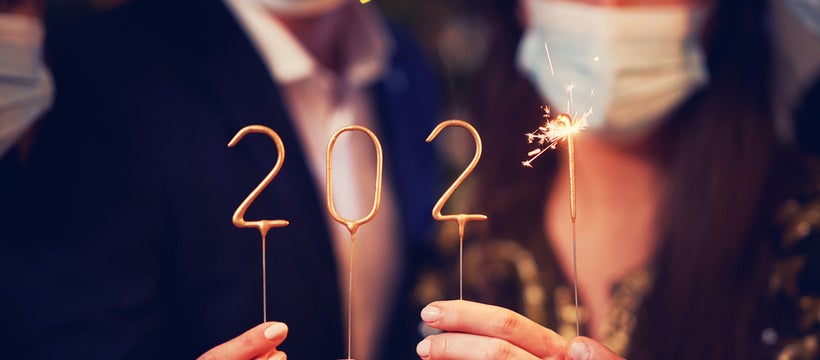 This stressful year is almost over, and that in itself is cause for celebration. While for the most part parties are either discouraged or flat-out against the law, if you are moving forward with your event it's imperative that the health of everyone involved be taken into account. As we look forward to 2021 we want to celebrate the New Year in safety as well as in style. So think about adding some new safety measures while beefing up your marketing efforts and get ready to have a successful NYE party – 2020 style. 
Planning The Party 
Consider the space and where everything will be situated. Use an outdoor space as creating an open environment is imperative for overall safety.  If the weather or securing an outdoor venue is an issue, be certain your indoor venue is large enough to allow for plenty of unused space for social distancing.
A limit on capacity will make your event more manageable and more desirable. Keep the sanitizer on deck and spread it liberally around the space. Add custom face masks to your party favors as a precaution as well. These masks will undoubtedly become mementos for the foreseeable future, and if you add your logo, they can become valuable marketing tools.
I Saw The Signs Once you've found a space that meets your needs and your plans are in motion, you'll want to spread the word. Signage outside your establishment or in the community at large is a good starting point but you'll want to open new avenues for customers as well. Properly placed yard signs on busy intersections or by a town center may prove to be the key to getting customers excited about your event. 
Make the messaging straightforward with a "Happy NYE" and list the event details with all the necessary safety guidelines to accommodate city/county mandates. Direct, limited and straightforward copy on your signage always yields the best results. 
Throw Your Hands Up 
With all of the world getting ready to celebrate the end of a year that feels like an era, look towards marketing to help your celebrations reach new heights. Nothing says celebration quite like an inflatable tube man; they help you stand above the competition and ensure customers can see your message from a distance. 
Whether you're gearing up for a small private affair or getting ready for a larger NYE event, an inflatable adds excitement for your customers and attendees. In these uncertain times it's become harder to tell if an establishment is open, so finding ways to clearly show that your business is party-ready is a hashtag-worth-it. 
Don't Forget The Food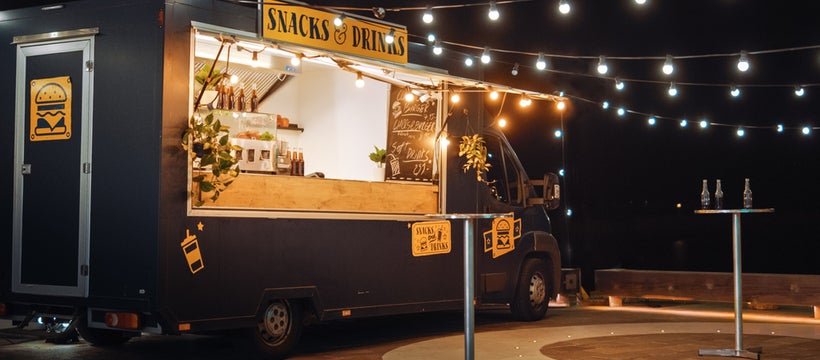 This year some changes may need to occur if you're planning on serving food. Any buffet-style meal is not ideal, especially for the safety of your guests. In fact, in many places, it is no longer legal to serve buffet style. It's also not safe for servers passing around hors d'oeuvre trays. 
Opt for less traditional and more trendy food options. Like pre-wrapped individual meals and remember to have your tables properly spaced. Another option is having food trucks outside for a wide variety of food selections. This also helps local small businesses and builds lasting relationships inside your community. 
Photo-Ops & Backdrops 
Once the champagne is flowing and everyone is on cloud nine, make your guests feel like celebrities this NYE. Custom backdrops add a red carpet feeling to the celebration and if you add your logo to the mix, it can increase your social media presence and attract new customers, particularly when images of your business managing your event responsibly and with the safety of your patrons top of mind.
Speaking of red carpets – why not add one of your own? Turn the arrival area into a socially distanced photo op and have your guests arrive in style. You can even have your photographers shout at the arrivals just like on a movie premiere, asking questions, getting their attention for the posed shot, etc.
A Mask-querade 
An innovative solution to a difficult party situation is having a Masquerade. This encourages mask-wearing and is in line with NYE celebrations of medieval times. Try creating a contest for the best mask of the night; we all know this is a difficult time, so it's best to make the most of it. 
A Year in Review 
While we are hopeful for 2021, we know a lot of work still needs to be done. While celebrating the end of 2020, put safety measures in place so you're doing your part to protect your customers and your business. We want your parties to succeed and taking precautionary measures will ensure that your guests can safely ring in the New Year.