The vision, patriotism, optimism, hope, and courage of one man, made a million dreams come true. Dr. King's dream was one of equality and justice for all; he dreamed of a world free of bias, and void of discrimination.
"I have a dream that one day this nation will rise up and live out the true meaning of its creed: "We hold these truths to be self-evident: that all men are created equal." I have a dream that one day on the red hills of Georgia the sons of former slaves and the sons of former slave-owners will be able to sit down together at a table of brotherhood. I have a dream that one day even the state of Mississippi, a desert state, sweltering with the heat of injustice and oppression, will be transformed into an oasis of freedom and justice. I have a dream that my four children will one day live in a nation where they will not be judged by the color of their skin but by the content of their character. I have a dream today."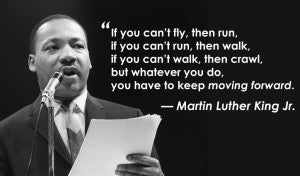 Dr. King truly had faith that one-day justice was going to triumph and that freedom would ring across our great nation and across the world. It was his true patriotism that led him to fight for justice in his own country, and he inspired Americans to fight for equality, and encouraged us to reach greater heights as not only Americans, but as human beings.
His famous "I Have a Dream" speech portrayed empathy towards his fellow beings and moreover conviction in his beliefs. He remained dedicated to his mission no matter what adversity he faced and his speech became a shining moment in the civil rights movement.
Equality, justice, and freedom are the fundamental right to every human being and this message was at the core of the civil rights movement. Dr. King's "I Have a Dream" speech inspired many to fight for justice, and his unwavering dedication to fighting for peace and equality was awe-inspiring. In the 1960's our country was in the midst of finally coming to terms with it's vast inequality issues, and seemed to be in constant turmoil, despite all of this Dr. King still had the dream of one day living in a just and brighter America.
This generation has a lot to take away from the great men and women that made history during the civil rights movement. Strongmen and women like Dr. King, and those that fought along side him during the civil rights movement have always inspired, andtheir legacy will continue to inspire as their movement and message is part of the legacy of this great nation.
Every one of us has the potential to be a hero whether you are working to empower those in your local community, working on bigger nation wide initiatives, or just overcoming personal challenges.
Dr. King started a revolution against inequality and the lack of justice for people of color in our nation and across the world. Your revolution could be for a larger cause or for something completely personal, regardless the outcome will always be based on your perseverance and the dedication you have for your cause.
Saluting the hero in you, we at BannerBuzz pay homage to a true national hero, Martin Luther King Jr.
For ideas on banners for inspiration, visit us today!