The pandemic disrupted every facet of daily life, but over half of all American adults are now fully vaccinated and things are slowly getting back to normal. This news is exciting for business owners who are eager to recover last year's losses and customers who are ready to return to in-store shopping. Pandemic-related safety precautions are essential for your company to thrive during these transitional times. The good news is, there are simple strategies your business can implement to segway to a safer establishment and prepare for your grand reopening. 
A Brave New World

Everyone is learning to adjust to the current economic and social climate. According to a new Gallup poll, only 9% of American consumers feel their lives are completely back to normal, while 57% say their lives are mostly back to normal. People are itching to return to the gym, enjoy their favorite restaurants, and go on shopping trips. However, people must continue to adhere to safety precautions like masking and social distancing to truly stop the spread of COVID-19.
The good news is, 63% of U.S. adults have received at least one dose of the vaccine. However, many customers still have concerns about the coronavirus. There are safety measures your business can implement to promote in-store safety and improve customer satisfaction.
Establish In-Store Safety Measures
If your business sees high foot traffic or surface contact from guests, ensure all public areas are regularly cleaned. Routine cleaning and sanitizing services can help you prevent the spread of infectious diseases in your establishment. Use in-store signage to explain your cleaning process to customers. This communication tactic will put your customers' minds at ease and let them know your company is utilizing these services to keep your store safe. 
As foot traffic is projected to increase in the coming weeks and months, rearrange your store or restaurant's floor plan to accommodate social distancing. Place sneeze guards at checkout counters, between cafe tables, or to separate salon chairs to limit viral exposure and protect your employees and clients. Limit the spread of germs on your sales floor with hand sanitizer dispensers and put a sign or shelf banner near the dispensers to politely encourage customers and employees to keep their hands clean. 
Hands-Free
There are some positive changes to the new shopping experience that consumers hope will stick around even as life returns to normal. For example, 87% of U.S. customers prefer to shop at stores that use touchless checkout or self check-out options. Keep touchless ordering options, like QR code menus, or promote your hands-free payment options. These options are convenient and reduce the risk of viral spread. Finding ways to mesh safety considerations with convenience will create a positive in-store shopping experience for your customers and safeguard your business. 
Keep Your Customers Informed

Brick and mortar retail still reigns supreme in the eyes of most modern shoppers. A recent retail study showed a decrease in consumer satisfaction with 75% of companies as a result of the pandemic. Last year, many customers had grievances with online shopping glitches, shipping delays, or incorrect order fulfillment. Small brick and mortar businesses offer customers tangible solutions to their digital shopping difficulties. 
As customers return to in-store shopping, your business needs to have excellent communication techniques to cut down on consumer confusion, increase customer satisfaction, and encourage safe shopping practices. Masking and social distancing are two prominent precautions the CDC recommends for safely reopening and expanding business operations.  
A recent survey found that 88% of consumers still regularly wear masks when in public. You can encourage customers to continue this safety practice during their visit to your business with storefront banners and window decals. You can use signage inside, too, to promote social distancing with floor decals.  
If you have added new shopping or dining options, like online ordering or patio seating, use signs to inform customers of these changes. These options help businesses better regulate the flow of foot traffic and limit the risk of coronavirus exposure. Communicate changes to your operating hours, new shopping options, and safety regulations to your customers to promote a safe and positive consumer experience.
Set Your Employees Up for Success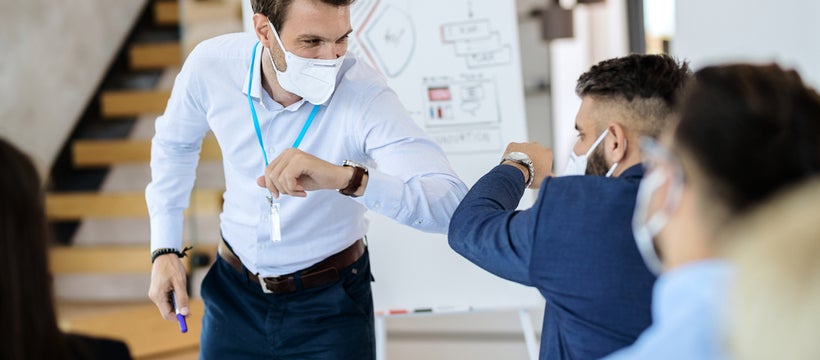 Much like customers, employees are experiencing quite an adjustment period too. For many workers, this is their first time returning to in-person office environments in over a year. While 85% of employees stated they are looking forward to returning to the office, 35% of workers expressed concerns over current workplace safety measures. 
Employee retention and satisfaction are crucial for your success and you can create a positive work environment by implementing safety training to educate your employees about new safety measures. Changes to your floor plan, additional cleaning procedures, and mandatory safety protocols need to be clearly communicated to employees. Additionally, training your workforce to adapt their operations to new regulations allows them to better communicate these procedures to your customers. 
As your staff returns to work, acts of employee appreciation are a great way to make everyone feel welcome. You could celebrate the return to work with complimentary face masks, hand sanitizer, and company branded coffee cups. These gifts are nice ways to show you care about your staff and face masks and hand sanitizer promote workplace safety. 
Offer Unique Shopping Options

The pandemic has changed the way people shop and live and customers expect some online integrations for their in-store experiences even as quarantine laws are lifted. In-person dining restrictions prompted many restaurants to offer curbside delivery. This option was wildly successful among customers and nearly 50% of restaurants plan to continue curbside delivery after the pandemic resolves. 
BOPIS, or buy online, pick up in store, was a popular shopping strategy for customers during the shutdown. A whopping 90% of retailers plan to offer BOPIS options to customers this year and beyond. Your business can promote these safer shopping options with storefront signage, like window decals.
Finding ways to digitize your brick and mortar operations is a great way to safely regulate in-store foot traffic while increasing customer satisfaction. These solutions will help you segway to a safer establishment. 
References
COVID-19 Vaccinations in the United States
CDC
https://covid.cdc.gov/covid-data-tracker/#vaccinations
Americans Report Returning to Normalcy, Gallup Poll Finds
U.S. News
https://www.usnews.com/news/health-news/articles/2021-06-04/americans-report-returning-to-normalcy-gallup-poll-finds
50 Statistics Showing The Lasting Impact Of COVID-19 On Consumers
Forbes
https://www.forbes.com/sites/blakemorgan/2020/10/19/50-statistics-showing-the-lasting-impact-of-covid-19-on-consumers/?sh=1628d434261f
U.S. Worker Satisfaction With Job Safety Down Amid COVID
Gallup
https://news.gallup.com/poll/309188/worker-satisfaction-job-safety-down-amid-covid.aspx
New Study Finds 85% of Workers Want to Return to the Office
Business Wire
https://www.businesswire.com/news/home/20210310005622/en/New-Study-Finds-85-of-Workers-Want-to-Return-to-the-Office
Survey: US consumer sentiment during the coronavirus crisis
McKinsey & Company
https://www.mckinsey.com/business-functions/marketing-and-sales/our-insights/survey-us-consumer-sentiment-during-the-coronavirus-crisis
90% Of Retailers Plan To Implement BOPIS By 2021
Retail Touchpoints
https://retailtouchpoints.com/resources/90-of-retailers-plan-to-implement-bopis-by-2021
Were online customers more satisfied during the COVID-19 pandemic?
Perficient
https://blogs.perficient.com/2020/12/30/were-online-customers-more-satisfied-during-the-covid-19-pandemic/
Vast Majority of Americans Support Wearing Masks, But a Deeper Look at Behavior Reveals Troubling Lack of Adherence
USC
https://healthpolicy.usc.edu/evidence-base/vast-majority-of-americans-support-wearing-masks-but-a-deeper-look-at-mask-wearing-behavior-reveals-troubling-lack-of-adherence-to-social-distancing-recommendations/