Participating in trade shows is a year-round must for continuing to not only be relevant but also for continuing to expand your business and its partnerships. These events present the rare opportunity to get your brand in front of a high volume of new business leads as well as customers. As you know, crowded exhibition halls and large crowds present a challenge for brand visibility. Standing out from the competition and having a successful event is easy if you apply a few expert tips to your next trade show strategy. 
Make A Pre-Show Checklist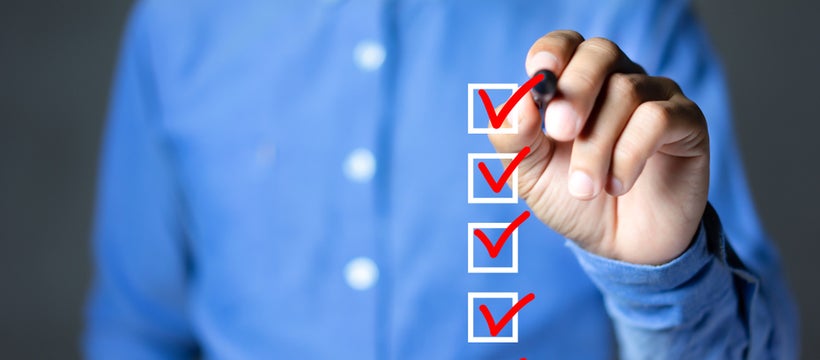 When preparing for a trade show, there are some must-have marketing materials you do not want to leave home without. Make a checklist of everything you need to order or coordinate ahead of the actual event day. Put your design department to work developing branded signage, sales flyers, table covers, etc., or commission a designer to do so. Either way, make sure you leave enough time for these materials to ship. 
Clearly define the metrics you will use to measure your brand's success at a trade show event. This tactic keeps your team focused on achieving the company's goals. If you are selling a product or service, create KPIs such as new order quotas or an ideal number of first impressions your team should make each day. If you are seeking new business partnerships or networking opportunities, determine the number of leads and business meetings you need to generate each day. 
Once you have defined your target trade show customer, your success metrics, and the desired number of daily impressions, use all of this information to determine the type and quantity of marketing materials you need. Trade shows are the second largest source of B2B revenue in the US, so do not sabotage this fantastic opportunity by forgetting to order enough business cards or sales flyers to hand out to prospective customers. 
Great Branding Matters
Over 90% of trade show attendees come to these events to find new products and services, which means your upcoming event is the perfect opportunity to generate new business leads. However, if your event space does not properly reflect your brand identity, customers will have a hard time connecting with your business once the event is over. You can cut down on the confusion, boost brand awareness, and increase sales if your trade show banners, logo, promotional materials, and business cards have a unified aesthetic. 
Using a signature color can boost brand recognition by 80%. Do not abandon your brand's color palette when you design your trade show event space. Incorporate your logo and signature color into all of your event design decisions and place easy-to-identify trade show banners and signs at a height that customers can easily spot from across the exhibit hall. 
Nearly 40% of all trade show attendees are attending the event for the first time. Having an effective brand strategy can supercharge your new business leads. Make sure your sales flyers and business cards are branded and include all the contact and product information customers need to connect with your company once the event is over. 
It's also important to have team members at your booth to answer customer questions and nurture new business relationships. A strong brand identity and friendly, knowledgeable event sales and marketing staff will take your trade show experience to the next level. 
Show Stopping Signage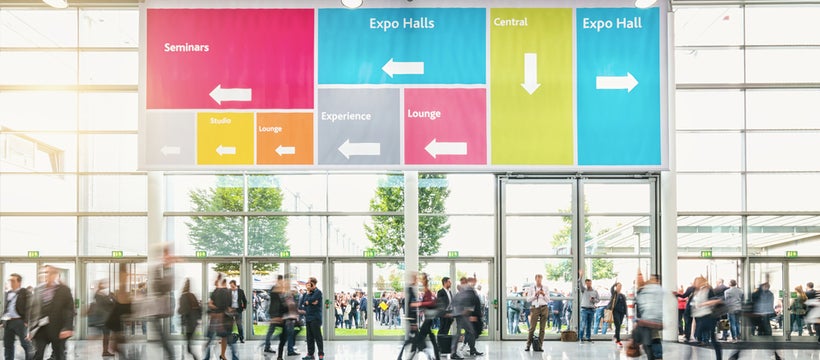 Trade show banners and signs attract foot traffic to your booth. A study conducted by FedEx found that eight in ten people entered a business they had never been to before due to the company's signs. Place trade show banners above your booth to add height to your message. This simple trick will ensure existing customers and curious attendees alike can easily find you. 
According to the FedEx study, ​​​​60% of customers said that the absence of signs deters them from engaging with a business. You definitely want customers in your booth, so creating a welcoming event space with adequate signs and banners is an absolute must. 
Signs and trade show banners can facilitate dialogue between business and event attendees. Since 81% of customers need to be able to trust a brand in order to buy from them, these marketing materials can help communicate your company's mission and values to first-time visitors. 
If your company is committed to sustainability or proudly supports American manufacturers, make this information known to your customers. You could take the trust-building efforts to the next level and print real customer testimonials on banners and sign displays placed near product or service brochures. 
Adding an element of interactivity to your signage is a great way to stand out from the crowd too. You can include QR codes with direct links to your company's website, a product video, or a fun giveaway. This option is a great way to encourage audience participation and create memorable trade show touchpoints for your guests. 
The Power of Promotional Items Trade shows don't have to be boring. Event attendees will get tired of long-winded sales pitches and generic event experiences. You have the opportunity to use your space effectively and create an engaging event experience for trade show visitors. 
By the time guests reach your booth, they have likely seen hundreds of brands. Promotional materials can cut through the trade show static and support your branding and sales initiatives. These items boost your brand awareness even after the show ends and that's because 85% of people who have received a branded piece of apparel can recall the advertiser's name. Branded pens, coffee mugs, t-shirts, or bags are all great promotional items to hand out. 
These items are smart marketing investments because they boost brand awareness and have the power to drive up sales. In fact, 74% of trade show attendees say engaging with branded event marketing experiences makes them more likely to buy the products being promoted.
You can amp up the promotional fun with engaging giveaways and contests. Add eye-catching window clings and branded table covers to your glass displays and giveaway tables. You can host industry-related trivia games, product demonstrations, or raffles to entice customers to sign up for emails or try out your products. Promotional marketing items make a positive impression on your customers and these items boost brand awareness and create new touchpoints when recipients use these items in front of others. 
Post-Show Considerations
Your post-show activity is just as important as your event strategy. Remember, you are competing with the other trade show exhibitors for business, so following up with new leads after the event is crucial. Approximately 40% of exhibitors follow-up leads between three to five days after the show. 
Make sure your website and social media channels are updated and properly branded so customers can easily connect with your company. Including trade show highlights on your online channels is a great way to position your business as an industry leader. Take photos of your team engaging with customers and tag their business handles for added brand exposure. Sending personalized packaging with sales flyers, promotional items, and brochures can be a great personal touch for your post-show correspondence. 
Tips of the Trade 
Trade shows are a massive investment but, if executed correctly, they can yield a huge return on investment. Before the show, make a list of items you need to order and bring to the space. All marketing materials need to be properly branded so attendees can easily spot your company on the showroom floor. Once you have your branding and messaging secure, place your trade show banners and signage in highly visible areas. 
You can add some memorable touchpoints to your trade show booth with interactive signage, promotional giveaways, and lighthearted contests or informative product demonstrations. Once the show is over, be sure to follow up with customers. When you engage your new business leads, find ways to make this follow-up personal for each prospect. These easy to implement tips will help your company rise above the competition and make your next trade show a big success. 
References
The US B2B Trade Show Market Continues to Grow
Marketing Charts
https://www.marketingcharts.com/cross-media-and-traditional/trade-shows-and-events-traditional-and-cross-channel-109102
Suppliers: 18 Powerful Statistics On The Value Of Exhibiting At Tradeshows
Sage World
https://www.sageworld.com/blog/index.php/2015/05/14/suppliers-18-powerful-statistics-on-the-value-of-exhibiting-at-tradeshows/
WHAT IS THE IMPORTANCE OF COLOUR IN BRAND RECOGNITION?
Reboot
https://www.rebootonline.com/blog/what-importance-colour-brand-recognition/
22 Important Trade Show Statistics
Jobs In Marketing
https://jobsinmarketing.io/blog/trade-show-statistics/
FedEx Office Survey: Standout Signs Contribute to Sales
FedEx
https://newsroom.fedex.com/newsroom/fedex-office-survey-standout-signs-contribute-to-sales/
In Brands We Trust?
Edelman
https://www.edelman.com/sites/g/files/aatuss191/files/2019-07/2019_edelman_trust_barometer_special_report_in_brands_we_trust.pdf
Branded Giveaways And Other Promotional Products: Do They Still Have An Impact?
Forbes
https://www.forbes.com/sites/allbusiness/2017/12/14/branded-giveaways-and-other-promotional-products-do-they-still-have-an-impact/?sh=7e355c807790
Experiential Marketing Content Benchmarking Report
Event Marketing Institute
https://www.eventmarketer.com/wp-content/uploads/2016/05/2016EventTrackExecSummary.pdf
22 Important Trade Show Statistics
Jobs In Marketing