Life is slowly returning to normal. Many companies have opened their doors to resume operations and, as vaccination rates increase, customers feel more comfortable returning to in-store shopping. These shifts in commuter and consumer behavior signal a great marketing opportunity for small businesses. Over one billion trips are taken every day on U.S. roadways giving companies one billion opportunities to make new customer touchpoints. There are some great ways your company can mobilize your marketing strategy and use your car as a business asset to boost brand awareness. 
OOH Advertising Opportunities

As businesses open back up across the country, the number of motorists on the road will continue to increase as well. Out of home advertising (OOH) is a great way to take advantage of this fact and increase brand exposure to generate new business leads. In the age of screen fatigue, there's no better way to stand out from the competition than with unique physical marketing materials. 
Thanks to affordable car stickers, your car can be a powerful advertising tool. Vehicle advertisements generate anywhere between 30,000 to 80,000 impressions every day and cost as little as four cents per every one thousand impressions. 
Marketing on the Move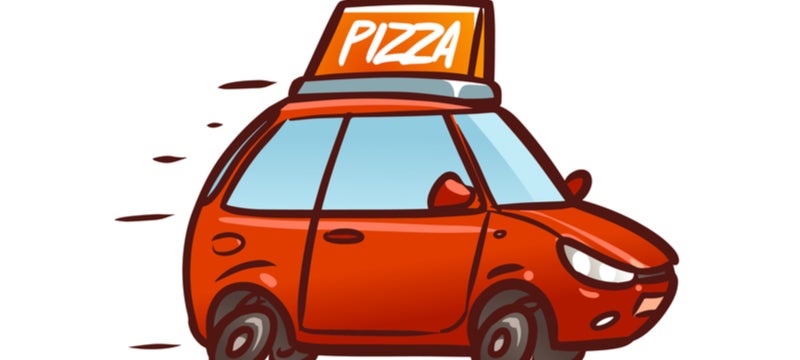 Mobile advertising isn't stagnant, meaning you can engage customers within your community and effectively target your outreach on the go. One study found that mobile advertising generates 2.5 times more attention than static billboards. The Outdoor Advertising Association of American found that the average vehicle is driven 15,000 miles per year and will pass nine million other vehicles. That is a huge opportunity to market your business to fellow motorists.
Companies can expect to generate $5.97 of profit for every dollar they spend on out of home advertising, so make sure you're getting the most mileage out of your marketing budget with well-designed signage, stickers, and decals. Remember, most of the touchpoints you generate with mobile ads come from passing motorists. Due to the nature of this advertising method, it's important your car stickers have easy-to-read, simple messages. 
Designing the Perfect Decal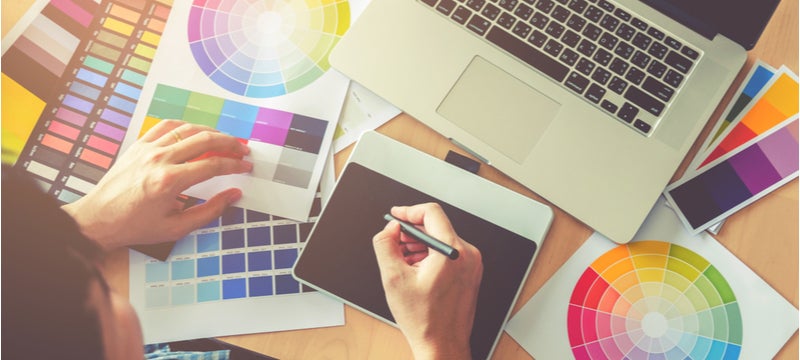 Sans serif fonts are great choices for car stickers. These fonts use simple, clean lines which improve readability, making them great options for high-speed advertising. Because you will be marketing to fellow motorists, keep the message simple: include your company name, logo, phone number or website, and a call to action like "Order Delivery", "Free Delivery", "Free Estimate", or "Call Now". 
According to the Center for Inclusive Design and Environmental Access, three-inch letters can be read up to 25 feet away while six-inch letters can be seen from over 33 feet away. These figures are important to think about when you place your decal order. Think about the size of your vehicle and the content of your message to determine which decal size will work best for your advertising goals.
Color Us Not Shocked
Color is another important decal design consideration. A good rule of thumb is to keep contrast high for legible messaging. For example, if the background color of your pizza delivery decal is black, white font color will help the message stand out against the black backdrop. Think about your brand's color palette and apply the same hues to your car stickers. Choose high contrast color combinations from your brand's palette to increase sticker readability. 
Deciding Which Car Sign Is Right for You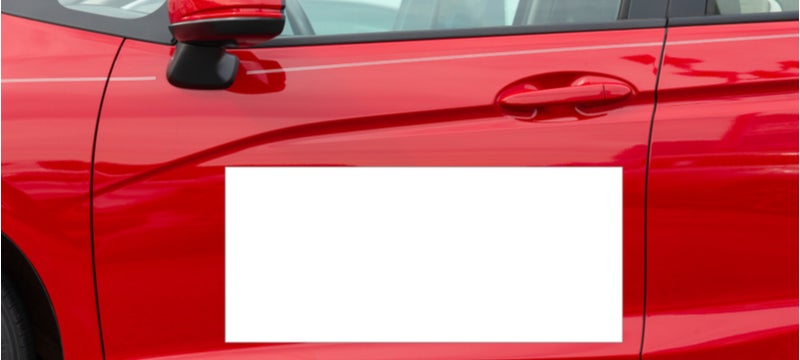 There are so many great mobile marketing options to choose from that it can be tough deciding which one is right for you. Think about your brand identity and the most important message you want to deliver. Next, think of ways you can combine your brand identity and messaging in one easy-to-read yet eye-catching message. 
For example, a fast food delivery service could benefit from magnetic decals with the company name and phone number placed on each side of the vehicle. Custom advertising car flags could be a nice addition to catch customers' eyes as the delivery cars make their rounds too. Custom die-cut stickers are creative advertising options. A repair service could order die-cut stickers in the shape of a hammer. This option works well for mobile marketing because companies can use a sign's shape to visually communicate part of their brand messaging. 
Reflective stickers are great options for companies that do a lot of in-town and evening driving while trailer or truck lettering works well for large-scale operations. As a business owner, you probably spend a lot of time at your brick and mortar. Why not take that opportunity to use your car as a moving billboard for your brand? Adding a vinyl car sticker to your vehicle is an inexpensive yet effective way to increase brand awareness while your car sits in the parking lot. 
Whether you are a one person show or have an entire fleet of company vehicles, placing ads on company cars boosts name recognition 15 times greater than other advertising media.
The Value of Multichannel Marketing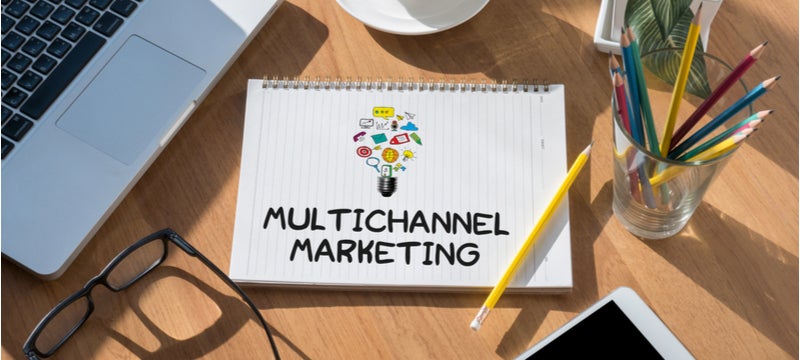 Getting your company's name out into the community is easy with a strong multichannel marketing strategy. Over 50% of modern marketers use three to four advertising channels to reach customers. One study found that customers who research a company in advance spend 13% more. According to HubSpot, 72% of shoppers who did a local search using a search engine visited a store within five miles of their location. A different study found that 88% of customers who do a local search on their smartphone visit or call a store within a day. 
Car stickers are an inexpensive but effective way to drum up curiosity and drive in-store and online interactions. The average American drives roughly 1,000 miles each month and most of those miles are concentrated within a 29 miles radius of their home. This data shows the importance of mobile marketing to reach new business leads within your community.
Here's an example of a multichannel marketing strategy in action: your company could place signage along heavily trafficked roads, then guide curious customers to your destination with storefront banners. Use shelf signs to highlight new promotions and place brochures near checkout counters so customers can keep your contact and web address handy. Car stickers are a great addition to this strategy because they are mobile in nature, allowing you to reach new sales leads while you go about your business day. 
This multifaceted marketing approach lets you use existing business tools in new ways with the addition of cost-effective signage. Turning your company car into an advertising channel is a great way to boost brand awareness and drive sales. 
References
National Household Travel Survey Daily Travel Quick Facts
Bureau of Transportation Statistics
Are car wraps a good investment for your small business?
Intuit Quickbooks
https://quickbooks.intuit.com/r/local-marketing/are-vehicle-wraps-a-good-investment-for-your-small-business/
The Numbers "Add up" on Mobile Billboards Advertising.
Perception Research
http://files.greenimagemarketing.webnode.com/200000036-aa918ab8af/The%20Numbers%20ADD%20UP%20on%20Mobile%20Billboards.pdf
Vehicle Graphics Grow Importance as Marketing Tool
Yahoo News
https://news.yahoo.com/vehicle-graphics-grow-importance-marketing-140800090.html
17 Shocking Facts about OOH Advertising You Didn't Know
Brand Buddha
https://brandbuddha.com/17-ooh-advertising-facts/
Car Wraps and Graphics Are Revolutionizing the Advertising Business
PR Newswire
https://www.prnewswire.com/news-releases/car-wraps-and-graphics-are-revolutionizing-the-advertising-business-91584329.html
Universal Design: Creating Inclusive Environments
Center for Inclusive Design and Environmental Access
http://idea.ap.buffalo.edu/resources/
50+ Essential Multichannel Marketing Statistics
Zoominfo
https://blog.zoominfo.com/multichannel-marketing-statistics/
The Ultimate List of Marketing Statistics for 2021
HubSpot
https://www.hubspot.com/marketing-statistics?_ga=2.226963034.676260061.1624291570-467868559.1619838289&_conv_v=vi%3A1*sc%3A9*cs%3A1624291568*fs%3A1619838289*pv%3A24*seg%3A%7B10031564.1%7D*exp%3A%7B%7D*ps%3A1623252835&_conv_s=si%3A9*sh%3A1624291568123-0.579936123698571*pv%3A1
GOOGLE LOCAL SEO STATISTICS THAT EVERY SEARCH MARKETER SHOULD READ
SEO Expert
https://seoexpertbrad.com/local-seo-stats/
What is Average Mileage Per Year?
Car and Driver
https://www.caranddriver.com/research/a32880477/average-mileage-per-year/